Published November 13, 2023
-
6 mins read
The Future of Meetings: Get the Report from 490+ Experts

Shaimaa Badawi
With the never-ending exponential growth of technology come the solutions to our modern-day problems.
There's no denying how virtual meetings have boomed in the past 3 years, and as a result, we've seen the rise of meeting management platforms, each with a specific set of features tailored to enhance the online meeting experience.
But how does AI play a role in the virtual meeting world? Let's find out what the future of meetings will look like and how AI can solve the most common meeting pain points.
What are the main challenges of online meetings?
Meeting pain points range from scheduling conflicts and lack of engagement to the inability to follow up on tasks and capturing key insights. Let's find out the most common problems in virtual meetings.
1. Poor meeting preparation
Unclear agenda: when meetings lack a well-defined agenda, participants may not know what to expect, leading to confusion and inefficiency.
Scheduling conflicts: poorly scheduled meetings can result in conflicts with participants' prior commitments, causing frustration and reduced attendance.
Unclear objectives: meetings without clearly defined objectives can devolve into aimless discussions, wasting time and leaving participants disoriented.
2. Time mismanagement
No timed agenda: failing to adhere to a timed agenda can lead to meetings running overtime, disrupting participants' schedules and diminishing their enthusiasm.
Unnecessary meetings: inefficient time management may result in scheduling unnecessary meetings, causing fatigue and decreased engagement among participants.
3. Lack of engagement
Host dominance: in virtual meetings, hosts often dominate the conversation, leaving limited room for participant interaction. This one-sided communication can lead to disengagement.
Limited interactive features: virtual meetings may lack interactive features, such as real-time polling or breakout sessions, which can contribute to passive participation.
4. Communication gaps
Technical glitches: technical issues like poor internet connectivity, audio problems, or screen freezes can disrupt the flow of communication, causing frustration and misunderstanding.
Body language limitations: online meetings make it challenging to interpret body language and non-verbal cues, which are crucial for effective communication and understanding.
Interruption challenges: in virtual settings, participants may hesitate to interrupt the speaker or may not have the opportunity to do so, leading to missed opportunities for clarifications.
5. Lack of follow-up
Undefined action items: meetings often conclude without clearly defined action items or responsibilities, leaving participants uncertain about their post-meeting tasks.
Ambiguous outcomes: participants may lack clarity regarding the meeting's outcomes and what steps need to be taken next, resulting in a lack of accountability.
We've recently surveyed over 490 experts from various industries sharing their insights on challenges and AI in meetings, and according to them, these are some of the top meeting challenges:
50% highlighted the lack of action follow-ups as one of the main challenges of online meetings.
46% think not setting clear meeting objectives contributes to ineffective meetings.
43% acknowledge that low engagement is a major problem.
37% believe that time mismanagement leads to unnecessary meetings.
Want to find out more? Click on the button below to gain insights from real-life experts.
How can AI improve virtual meetings?
Now that we've established online meeting challenges. let's take a look at what AI can do to solve these obstacles and help you run effective meetings.
1. Enhanced meeting organization
AI technology can streamline meeting preparation by generating clear agendas, distributing them to participants, improving meeting content, sending meeting reminders, and highlighting key insights during the meeting.
2. Increased participant engagement
AI-powered solutions can introduce interactive features such as real-time polls and content collaboration, facilitating brainstorming sessions to boost participant involvement and maintain their focus throughout the meeting.
3. Effective time management
AI can establish precise meeting start and end times with timed agenda items, ensuring meetings adhere to schedules and preventing unnecessary time overruns.
4. Transcription and meeting summaries
AI can facilitate capturing important notes from recorded meetings by generating meeting transcripts and providing summaries with action items, enabling attendees to access the most critical meeting takeaways without feeling distracted or overwhelmed.
5. Efficient post-meeting follow-up
AI can automate task allocation and tracking, ensuring that essential action items are assigned and completed, improving accountability, and preventing tasks from being neglected after the meeting.
By addressing these challenges, AI has the potential to enhance the efficiency, effectiveness, and inclusivity of online meetings, making them more productive and valuable for participants and organizations.
adam.ai for true all-in-one meeting management
When you think about running effective meetings, which tools come to mind?
A video-conferencing platform is among the first tools in your meeting suite that must be put into consideration.
You'll need a scheduling tool to book your meetings without conflicts with the ability to sync your calendars and automate your scheduling process.
A note-taking tool is a no-brainer in meetings because you'll need to keep a record of meeting insights and share this document with attendees.
But does it make sense to go into every meeting while juggling between at least 3-4 tools? And how does AI fit into this whole scheme?
Here's what adam.ai can do to help you run effective online meetings.
1. Sync all your calendars on one platform and create unlimited booking pages to show your availability and accommodate the schedules of busy committee members.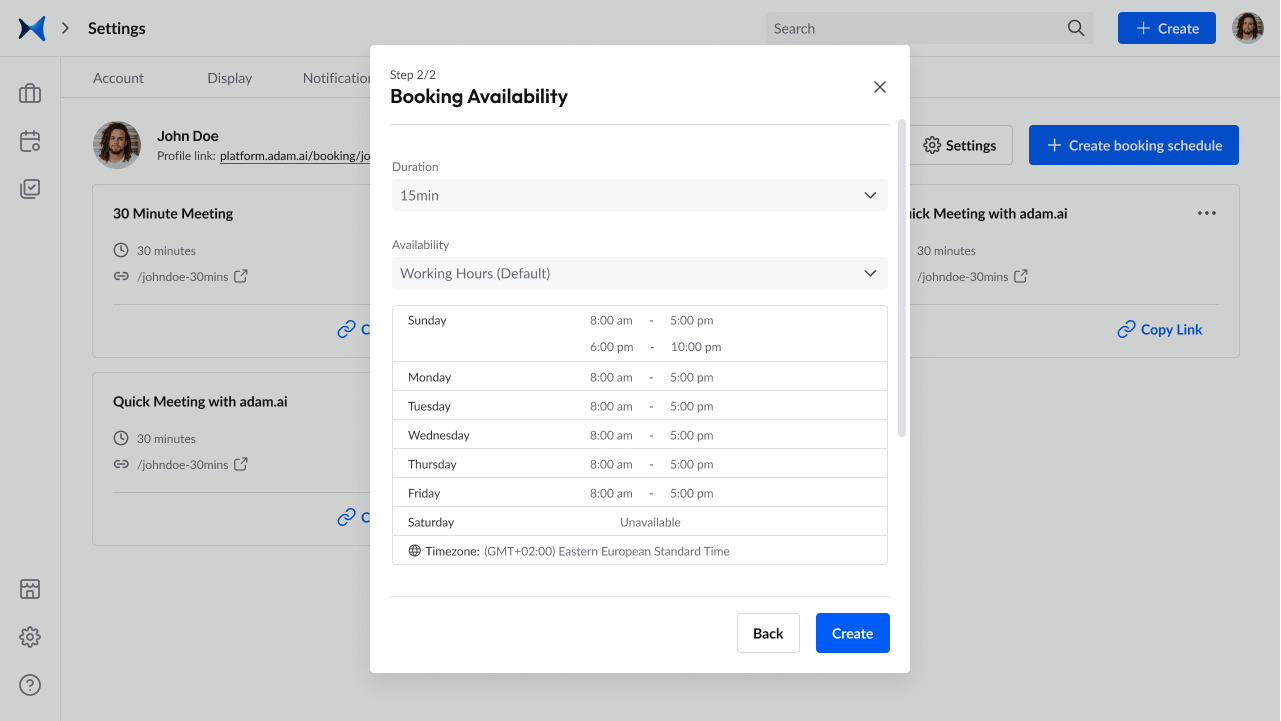 Screenshot from adam.ai: Booking pages.
2. Record agenda items, actions, polls, decisions, and notes using a smart note-taking system displayed side by side with the built-in video-conferencing feature for enhanced collaboration and productivity, with the ability to integrate with popular video-conferencing tools you're familiar with.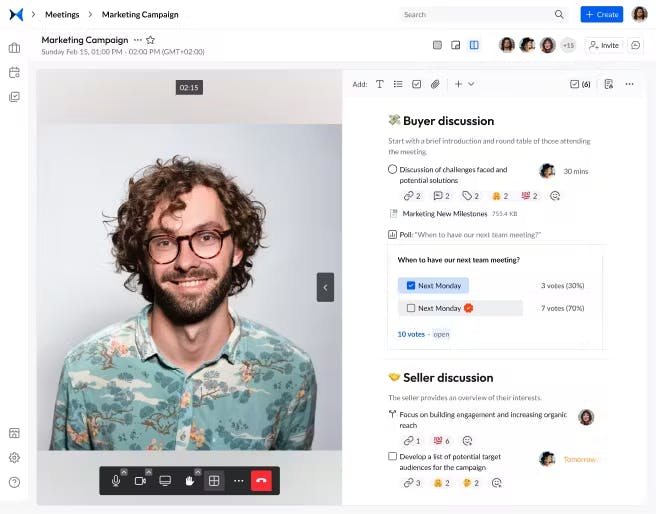 Screenshot from adam.ai: Video call displayed side by side with the meeting content.
3. Choose a customizable meeting agenda template from our gallery to kickstart preparation for your meetings and ensure organized and timely meetings.
Screenshot from adam.ai: Meeting templates.
4. Track your actions to ensure task ownership and accountability and improve decision-making with a powerful follow-up system with the ability to search for actions across all meetings.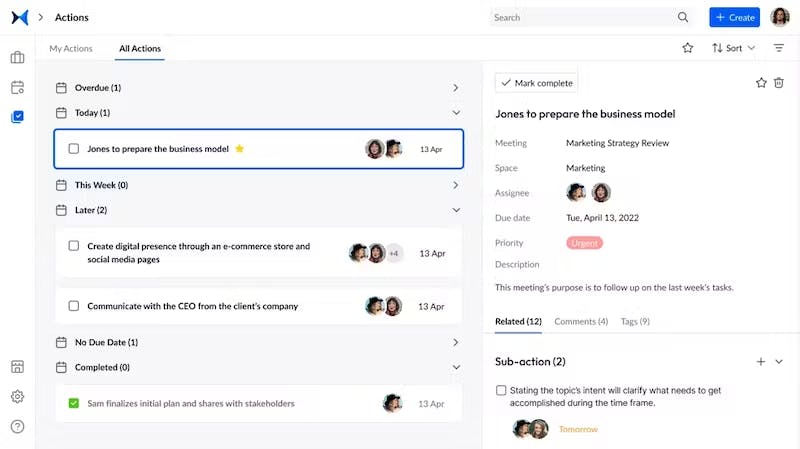 Screenshot from adam.ai: Manage actions.
5. Categorize meetings into spaces, including project, team, board, and committee, and have all their content under a specific umbrella for easy access.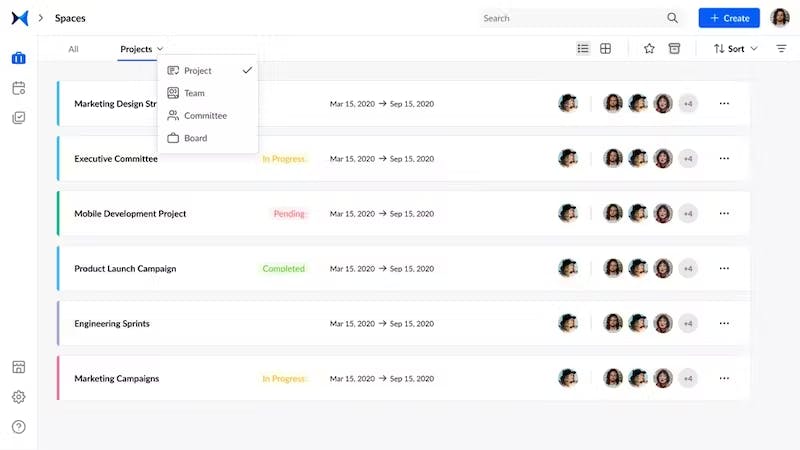 Screenshot from adam.ai: Meeting spaces.
6. Generate and share meeting minutes for due diligence and to keep a record for your reference.
7. Ask Adam the AI Assistant to generate meeting transcripts, enhance your meeting content, suggest agendas, and highlight action items and key insights.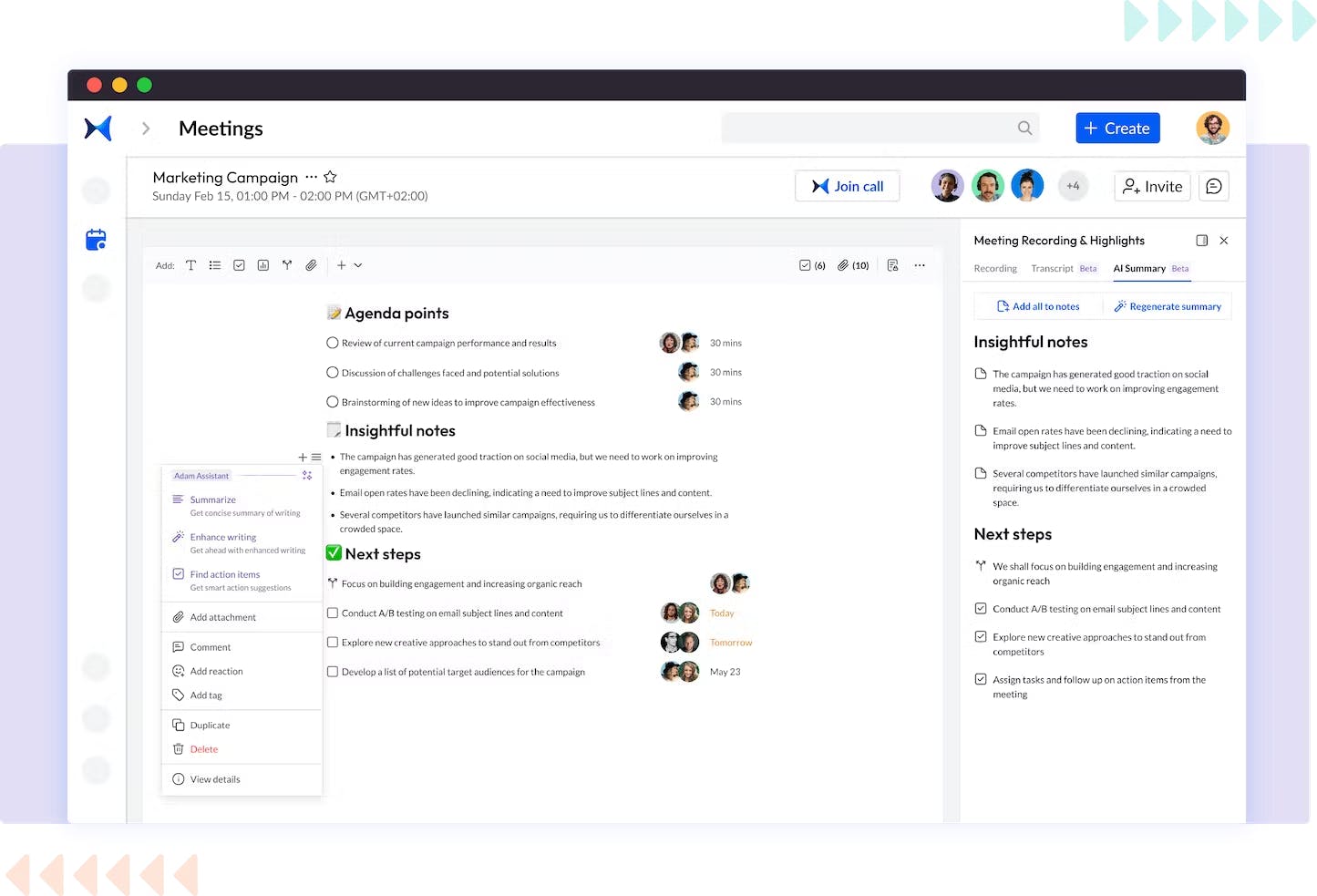 Screenshot from adam.ai: Adam the Assistant.
With adam.ai, you get the perfect combo with an all-in-one meeting management platform powered by AI features. Get started right now for free and see for yourself!
The bottom line
By now, you have a better understanding of how AI can help shape the future of meetings. Most online platforms are starting to introduce AI-powered features to offer the best experience for professionals who have regular online meetings.
adam.ai offers an all-in-one meeting management solution that empowers you to manage your entire lifecycle and eliminates the need to jump through different tools.
Here are a few reasons to choose adam.ai:
Don't forget to share this post

Shaimaa Badawi
About the author ...
Content creator, passionate storyteller, and a pet lover
Subscribe to our blog
Get the latest blog posts sent straight to your inbox.