Published November 2, 2023
-
25 mins read
Top 17 Meeting Transcription Tools (with Real User Feedback)

Shaimaa Badawi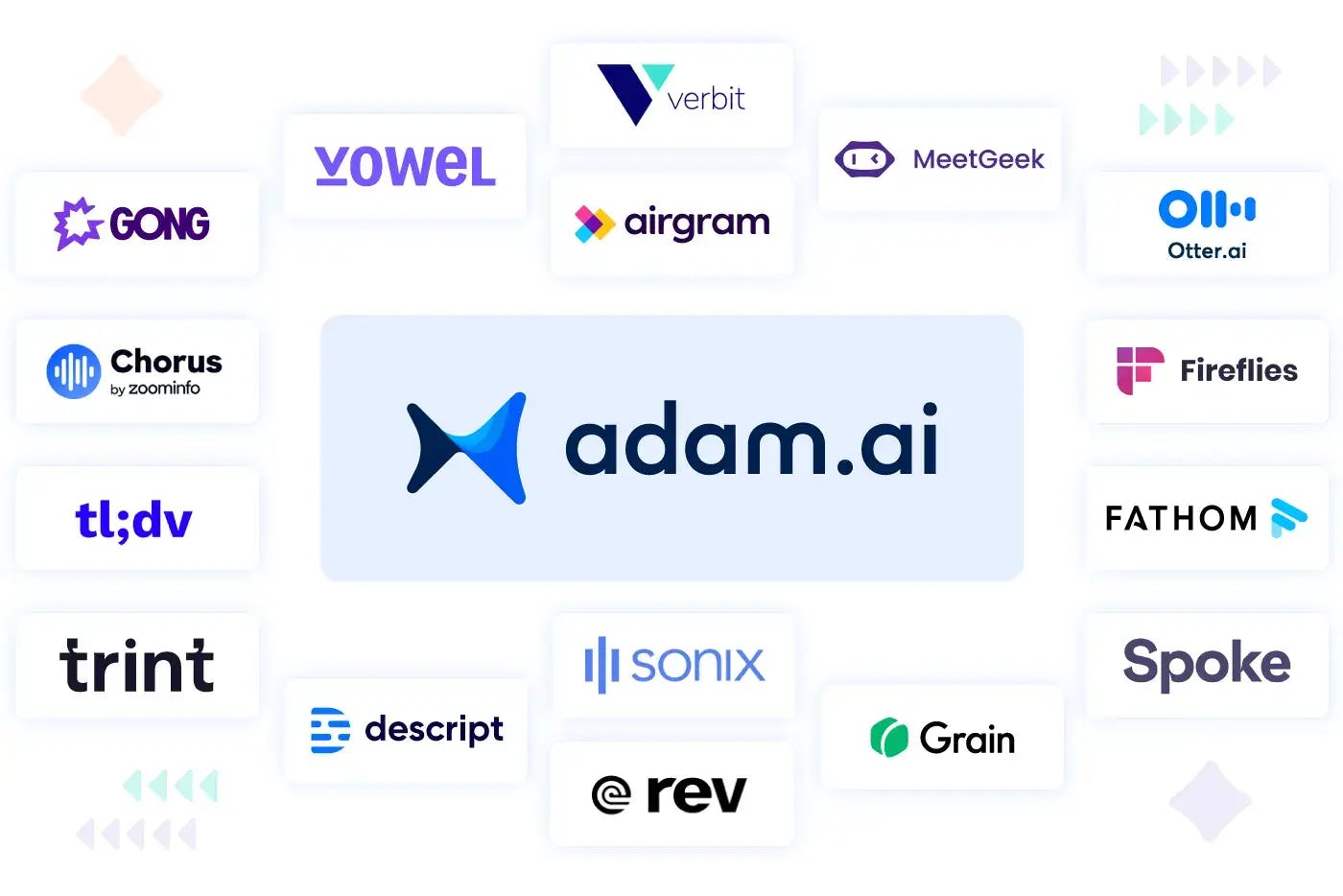 With the rise of AI-powered tools and platforms, effective communication goes hand in hand with clear, reliable documentation. In recent years, meeting transcription tools have been perceived as valuable assets, converting spoken words into written text.
But with the multiple options offered in the market, which transcription software should you choose?
This article compiles a comprehensive list of the most popular meeting transcription tools with detailed pros and cons that will help you find the right tool for your professional needs.
1. adam.ai
adam.ai is an all-in-one meeting management platform that captures meeting knowledge and manages your entire meeting cycle from scheduling to follow-up.
With its AI-powered features, adam.ai enables you to generate meeting transcripts, summaries, and action items within seconds.
Screenshot from adam.ai: Generate meeting transcripts and summaries.
Ask Adam the AI Assistant to suggest agendas to kickstart your meeting, enhance content for a professional tone, and find action items in your written text, turning your messy notes into a structured outline for your meetings.
Screenshot from adam.ai: Ask Adam the Assistant to suggest a meeting agenda.
Screenshot from adam.ai: Ask Adam the Assistant to generate a meeting summary.
Screenshot from adam.ai: Ask Adam the Assistant to enhance writing and find action items.
What sets adam.ai apart from all the meeting transcription tools is that you can do more than record meetings and generate transcriptions.
Sync all your calendars on one platform and create unlimited booking pages to showcase your availability for easy scheduling.
Have a video call displayed side by side with your content displayed by a smart note-taking system to record agenda items, notes, polls, decisions, and actions.
Choose a customizable meeting template from our gallery to kickstart your meeting without delay.
Manage your actions to track progress with the ability to export and search for them across all meetings.
Categorize your meetings into spaces including project, team, board, and committee to have all your meetings under a specific umbrella for easy access.
Generate and share meeting minutes after the meeting to keep an accurate record for future reference.

adam.ai offers a comprehensive meeting management experience with a powerful transcription tool, eliminating the need for juggling through different tools to manage every meeting.
2. Gong
Gong is an AI-powered conversation intelligence platform tailored for sales teams, offering automated call recording, transcription, and in-depth analysis of sales conversations.
Beyond traditional video conferencing tools, it integrates with popular CRM systems, provides personalized AI-driven coaching, and uses actionable insights from top-performing sales strategies.
With features like Talk Tracker and Advanced Search, Gong empowers sales professionals to refine their approach, stay ahead of the competition, and maximize their success.
Gong rating on G2
Gong has a 4.7 rating on G2, with 5.3K+ reviews.
Gong pros
(a) AI-powered features for summarizing calls and answering customer questions.
(b) Accurate voice-to-text transcription at 95% accuracy.
(c) Provides insights and reporting to help improve sales skills.
(a) User-friendly interface.
(b) Easy integration with various systems like calendars, CRM tools, and more.
(c) Efficient search functionality to find specific keywords or topics in call transcripts.
(a) Valuable for coaching and training purposes, helping users review and improve their communication skills.
(b) Ability to share recordings and snippets for feedback and learning.
(a) Automatically generates action items and follow-up tasks based on call content.
(b) Saves time by eliminating the need for manual note-taking during calls.
Performance metrics: provides performance metrics and analytics to track call performance and progress over time.
Gong cons
Email notifications: Gong emails do not include a link to the call immediately when the call is done buffering, requiring users to manually copy/paste the link.
Transcription accuracy: users have reported occasional errors and inaccuracies in the transcript, indicating a need for improved transcription accuracy.
User interface: the video being minimized when viewing the transcript can be inconvenient for reviewing and summarizing calls.
Integration with AI: lack of AI integration to enhance call transcripts, provide detailed summaries with follow-up tasks, and improve communication flow with context-aware recommendations.
Metrics and use cases: Gong's heavy emphasis on sales metrics and scorecards could be expanded to include more customer success (CS) based metrics and use cases.
Joining meetings: users have experienced issues with Gong joining meetings late and starting to announce the recording in the middle of a conversation, which can disrupt the call.
Gong pricing
Gong offers different license types that are priced per recorded user. This info is only communicated upon contact with their team.
3. Chorus
Chorus by ZoomInfo is a Conversation Intelligence Platform that empowers sales teams with real-time insights and coaching. Using AI, it records, transcribes, and analyzes business conversations to optimize sales strategies.
Chorus offers call recording, coaching, and sales enablement features, enhancing performance and boosting deal success. Its integration with ZoomInfo provides valuable data for effective customer engagement, making it a valuable tool for sales professionals.
Chorus rating on G2
Chorus has a 4.5 rating on G2, with 2.9K+ reviews.
Chorus pros
Efficient call recaps: Chorus sends detailed call recaps via email and Slack, including meeting insights, recording links, and highlighted next steps, streamlining customer follow-ups.
Enhanced sales process: Chorus's efficient call review features have improved sales processes by providing insights into client interactions, pain points, and expectations, leading to tailored approaches and improved conversion rates.
Call efficiency analysis: allowing users to analyze meeting effectiveness, identify speaking time imbalances, and search transcripts for specific topics.
Time-saving: meeting recaps and transcripts save time for both users and clients, reducing the need to repeat information and search for timestamps.
Skills development: assisting in skills development by offering data on speaking time and filler words, enabling performance tracking, and providing selective data access.
Customer success management: CSMs find it helpful for reviewing customer calls, creating follow-up emails quickly, and easily sharing recordings with customers.
Actionable insights: accurate transcripts, insightful data, and the ability to clip and share snippets for feedback, training, or examples.
Chorus cons
User interface and navigation:
(a) Cumbersome search: some prefer manual navigation over the search function.
(b) Name recognition: Chorus occasionally misidentifies participants, transcribing names incorrectly.
(c) Transcription inaccuracy: transcripts may be incomplete and hard to read, potentially due to connection issues with meeting platforms.
(d) Recording initiation: managing live recordings outside of default settings, especially for internal meetings, can be difficult.
Call recording management:
(a) Meeting recording failures: Chorus may fail to record meetings, due to user or client errors, necessitating manual intervention to invite Chorus.
(b) Difficult call browsing: easier call browsing options are needed, suggesting options for sequential playback similar to a music player interface.
(c) Sorting challenges: sorting calls efficiently, especially by stages, is difficult.
Notification management: multiple coaching notifications: users receive redundant coaching notifications.
System performance: it takes 30-40 minutes for Chorus to fully update and allow review of newly uploaded recordings.
Usability and messaging:
(a) Back-to-back calls: transitioning between back-to-back calls on the same Zoom link is challenging.
(b) Report creation: creating specific call reports on the number of calls made is difficult.
Chorus pricing
Chorus's pricing packages are disclosed upon contact with their team.
4. Otter.ai
Otter is a transcription tool powered by artificial intelligence, designed to adeptly transform spoken words into text. This versatile service provides a user-friendly mobile app for recording and uploading audio or video files for transcription.
Otter's compatibility with well-known video-conferencing platforms like Zoom, Microsoft Teams, and Google Meet enables automatic note-taking during meetings, contributing to increased efficiency in a range of settings, whether it's important business discussions or educational lectures.
Otter rating on G2
Otter has a rating of 4.0 on G2, with 110+ reviews.
Otter pros
Real-time transcriptions, recording capabilities, and the "Otterpilot" for webinars.
User-friendly and intuitive software, accommodating various accents and speech patterns.
Facilitates meeting participation by automatically capturing notes, offering closed captions, and enabling note-sharing with participants.
Otter cons
Can accidentally transcribe sensitive information with no edit feature.
Might push users to higher-tier subscriptions by making it difficult to use lower-paid tiers or change plans.
Merging multiple speakers as one or mislabeling them and transcriptions might still need manual editing, even with clear audio.
Otter pricing
Basic plan for free.
Pro plan for $10 per user per month billed annually, $16.99 billed monthly.
Business plan for $20 per user per month billed annually, $40 billed monthly.
Enterprise plan, fees disclosed upon contact with their team.
5. Fireflies.ai
Fireflies is a tool for recording and transcribing meetings, aiming to enhance your conference experience. It works seamlessly with widely-used video conferencing services such as Zoom, Microsoft Teams, and Google Meet, among others.
Its AI-powered assistant facilitates live sessions, making it simple to grasp and revisit key points later. This software can record, transcribe, and structure your meetings and also lets team members add remarks and highlight crucial segments.
Fireflies rating on G2
Fireflies has a 4.5 rating on G2, with 80+ reviews.
Fireflies pros
Captures important decisions and actions automatically.
AI-powered assistant (AskFred): provides insights from conversations by analyzing conversations.
High transcription quality, although it may still require some manual editing.
Integrations with third-party tools and the ability to customize meeting summaries.
Fireflies cons
User interface could be more intuitive and user-friendly.
The meeting bot sometimes doesn't join meetings promptly, with difficulty removing the branded name from the meeting bot.
Limited space for storing meeting history.
Fireflies pricing
Free plan with basic features.
Pro plan for $10 per seat per month billed annually, $18 billed monthly.
Business plan for $19 per seat per month billed annually, $29 billed monthly.
Enterprise plan, fees disclosed upon contact with their team.
6. Grain
Grain is an AI-powered meeting recording tool that integrates with popular platforms like Zoom, Google Meet, and Microsoft Teams. It automates note-taking, recording, and insight capture during customer conversations, making it accessible and affordable for professionals in various roles.
With Grain, users can share customer perspectives via tools like Slack, Notion, HubSpot, and more, fostering customer-aligned teams and informed decisions. Grain's AI simplifies meeting summaries, allowing teams to capture key moments and insights, jump to specific points, and share feedback through platforms like Slack.
Grain rating on G2
Grain has a 4.6 rating on G2, with 260+ reviews.
Grain pros
Simplifies the sharing of meeting insights and highlights.
Facilitates note-taking during meetings with a library of recordings.
Allows quick access to key moments and insights in meeting recordings.
User-friendly interface.
Grain cons
Limited free features with the business plan being expensive for small businesses.
Not accurately recognizing accents in transcriptions.
Occasional issues when editing transcripts or copies.
Lack of admin controls for removing videos from the workspace and access controls.
AI summaries could be more accurate and advanced.
Difficulty in organizing and categorizing recordings efficiently.
Grain pricing
Basic plan for free.
Starter plan for $15 per seat per month billed annually, $19 billed monthly.
Business plan for $29 per seat per month billed annually, $39 billed monthly.
Enterprise plan, fees disclosed upon contact with their team.
7. Meetgeek
MeetGeek is an AI-powered meeting assistant offering meeting recordings, summaries, transcription, and integrations with video-conferencing tools.
It provides access controls for sharing meeting information and facilitates collaboration with team members to make meetings more efficient. Its various features make it a valuable tool for different professionals like consultants, sales teams, and HR professionals, to enhance productivity in online meetings.
MeetGeek rating on G2
MeetGeek has a 4.6 rating on G2, with 160+ reviews.
MeetGeek pros
Allows users to automatically join Google Meet and Zoom calls.
Ability to click on a section of the transcription to jump to that section of the video.
Generates summaries with action items using voice commands.
User-friendly interface.
MeetGeek cons
Reliability issues with MeetGeek bot not recording meetings.
Sometimes inaccurately captures meeting content, leading to client dissatisfaction.
Limited integrations.
Lack of planning or scheduling feature for group meetings.
MeetGeek pricing
Basic plan for free.
Pro plan for $15 per user per month billed annually, $19 billed monthly.
Business plan for $29 per user per month billed annually, $39 billed monthly.
Enterprise plan starting from $59 per month.
8. Descript
Descript is a comprehensive platform that simplifies the creation, editing, and sharing of videos and podcasts. It offers AI-powered transcription services with high accuracy and quick turnaround times in multiple languages.
Descript's user-friendly interface and AI-driven capabilities make audio and video editing accessible to a wide range of users, from content creators to marketers. It allows for easy correction of mistakes, removal of filler words, audio quality enhancement, and automatic transcription. Descript offers a convenient and efficient way to work with media content, akin to editing a text document, catering to communicators across various fields.
Descript rating on G2
Descript has a 4.5 rating on G2, with 300+ reviews.
Descript pros
Accurate transcription: Descript's speech recognition technology provides highly accurate transcriptions, simplifying the process of converting audio into text.
Effortless editing: users can easily correct mistakes, remove filler words, and improve content quality within a text-based interface, making video and audio editing a breeze.
Versatility: Descript offers a wide range of functionalities, making it suitable for various purposes, including content creation, social media content, and podcast editing.
Generative AI integration: the platform integrates generative AI with media editing, enabling users to edit and enhance audio and video content.
User-friendly interface: Descript's user-friendly interface is accessible to both beginners and experienced users, making it a valuable tool for content producers and audio teams.
Interactive onboarding: the platform provides an interactive onboarding experience, making it easy for users to get started and learn how to use the software effectively.
Captioning and live captions: Descript simplifies the captioning process and offers live captioning features, enhancing engagement in videos and reels.
Integration capabilities: Descript integrates with other tools, such as Zoom, to create transcriptions for meetings and executive summaries, enhancing productivity and collaboration.
Descript cons
Integration and AI editing: users desire better integration options, out-of-the-box integrations, and improved in-house AI editing capabilities, which would enhance convenience and functionality.
Windows support: while Descript works well on macOS, it faces occasional difficulties with Windows support, suggesting room for enhancement.
Bugs and reliability: the software is reported to have various bugs, including visual issues and occasional critical roadblocks, negatively impacting reliability and professionalism.
Performance impact: some users experienced computer performance issues after using Descript, including sluggishness and extended boot times.
Audiogram customization: users desire more customization options for audiograms, such as title and text size adjustments, to enhance the visual appeal of content.
Costly advanced features: advanced features come at an additional cost, which can be expensive for regular users, potentially impacting budget-conscious individuals.
Learning curve: mastering all Descript's features may require a learning curve, particularly for beginners.
Changing interface: frequent interface changes and updates can lead to difficulties in keeping up with the evolving tool and may hinder productivity.
Descript pricing
Free plan with basic features.
Creator plan for $12 per user per month billed annually, $15 billed monthly.
Pro plan for $24 per user per month billed annually, $30 billed monthly.
Enterprise plan, fees disclosed upon contact with their team.
9. Sonix
Sonix is an audio and video transcription tool known for its efficiency and is trusted by a large user base. It offers quick and accurate transcription services, transcribing 30 minutes of audio or video in just a few minutes.
Sonix offers a user-friendly online editor that allows easy transcript polishing while listening to the audio. It supports over 40 languages and integrates with various software, making it versatile for different multimedia production environments. Users can search archives, collaborate seamlessly, and even create custom dictionaries for specific needs.
Sonix rating on G2
Sonix has a 4.7 rating on G2, with 20+ reviews.
Sonix pros
Accuracy and speed: known for providing fast and efficient transcription services.
User-friendly editor: allowing easy transcript editing while listening to the audio.
Audio markers: the platform provides audio markers, allowing users to quickly navigate to specific sections of the transcript.
Stitched audio/text: automatically syncs audio with the corresponding text, simplifying the editing process and ensuring accuracy.
User roles and management: offers user roles and management features, making it suitable for collaboration within teams.
AI-powered features: leverages AI for speaker identification, punctuation, and more, enhancing the overall transcription experience.
Customization: users can create custom dictionaries, prioritize words, and customize timecodes, adding flexibility to the transcription process.
Subtitle support: allows users to create video subtitles and captions quickly, improving accessibility and usability of multimedia content.
Multi-language support: covers over 40 languages and dialects, making it suitable for a global user base.
Sonix cons
Limited file type support: inability to upload video files for transcription, expanding its usability beyond audio files.
Lack of AI translation: Sonix currently lacks built-in AI translation services, leading some users to rely on multiple separate services for various tasks like video-to-audio conversion and translation.
Absence of mobile app: users express a desire for a mobile app to enhance convenience, especially for recording interviews and seamless integration with Sonix.
Accents recognition: Sonix may struggle with detecting international accents, requiring manual correction and making transcription a more tedious task.
No live speech-to-text: Sonix doesn't offer live speech-to-text conversion, limiting its use for real-time transcription needs.
Pricing structure: some users find Sonix's pricing, which is per hour, to be relatively expensive compared to other transcription solutions.
Export speed and corruption: exporting transcripts may take a while, with some transcripts being corrupted upon download.
Timestamp frequency and placement: limitations in adjusting timestamp frequency and placement, to suit specific project requirements.
Transcription accuracy: the automatic transcriber may make occasional mistakes and doesn't provide clear indications of uncertain words, requiring manual review.
Sonix pricing
Standard (pay as you go) plan for $10 per hour.
Premium plan for $5 per hour plus $22 per user per month (25% discount if billed annually).
Enterprise plan, fees disclosed upon contact with their team.
10. Rev
Rev offers a versatile voice recorder app, simplifying audio recording and transcription tasks. It allows users to capture interviews, meetings, or lectures while following along with real-time transcripts.
The app features live recording and transcription, supports importing audio files, and offers syncing with cloud storage services like Dropbox for convenient backup, making it a valuable tool for various professionals and students.
Rev rating on G2
Rev has a 4.7 rating on G2, with 300+ reviews.
Rev pros
Fast and accurate transcriptions: making it a reliable choice for professionals who need quick and precise results.
Easy to use: simplifies the process of uploading, ordering, and editing transcripts.
Various services: offering transcription, captioning, and subtitling.
Versatile file support: allows you to import audio files from voice memos and sync with cloud storage services like Dropbox.
Speaker identification and timestamps: enabling users to identify speakers and locate specific moments in recordings easily.
Editing flexibility: with options to add unique words to the dictionary and make grammatical changes using Rev's editor.
Variety of use cases: including interviews, meetings, video accessibility through captions, and academic purposes.
Multiple language support: making it a global solution for transcription needs.
Audio playback option: providing the ability to listen to the audio while reviewing transcripts, ensuring that the content aligns with the audio.
Translation services: the ability to request translations of transcripts into different languages.
Rev cons
User interface and navigation: with issues like extra steps for downloading files and hidden download options in drop-down menus.
Inaccuracies in transcriptions: particularly those involving accents or verbatim add-ons.
Accent-dependent accuracy: may not always accurately capture words when the speaker has a non-American accent.
Lack of specialization: having dedicated transcribers with subject-specific knowledge could enhance accuracy and relevance in transcriptions.
Limited ETA information: lack of detailed estimated time of arrival (ETA) information, where sometimes the ETA is unavailable, or the quality of captions varies.
Integration challenges: especially when integrating media from external sources.
Sharing multiple transcriptions: issues with sharing multiple transcriptions simultaneously with people who are not on the same team.
Premium account limitations: certain features are restricted to premium accounts, which some users find limiting.
Speaker name entry: with challenges in entering speaker names clearly for transcribers and keywords for accurate spellings.
Rev pricing
Rev's pricing packages are categorized into 3 categories:
(a) AI transcription for $0.25 per minute.
(b) AI translation for $0.25 per minute.
(c) AI subscription for $29.99 per month.
(a) Human translation for $1.50 per minute.
(b) English captions for $1.50 per minute.
(c) Global subtitles for $5 to $12 per minute.
Business plan, fees disclosed upon contact with their team.
11. tl;dv
tl;dv, short for "too long; didn't view," is an AI-powered meeting recording software designed for Zoom and Google Meet users. tl;dv simplifies and enhances the online meeting experience in various ways.
It automatically records meetings in high quality, providing accurate transcriptions with speaker tags in over 20 languages. Users can timestamp and highlight crucial moments during meetings, making it effortless to revisit important points.
tl;dv enables users to capture, summarize, and share the essence of their virtual meetings, ultimately making remote collaboration more efficient and productive.
tl;dv rating on G2
tl;dv has a 4.7 rating on G2, with 100+ reviews.
tl;dv pros
User-friendly interface: simplifying navigation and usage.
Accurate meeting summaries and transcriptions: allowing users to quickly grasp essential information.
Customization options: allowing users to tailor their experience to individual preferences and needs.
Multi-language support: making it versatile for global use.
AI-powered features: automatic tagging, timestamping, and highlighting features.
Versatility: suitable for various use cases, like marketing, client meetings, and software development.
Efficient for asynchronous meetings: allowing participants to catch up on key points without watching the entire recording.
Clear recording: ensuring that no valuable information is lost during meetings.
tl;dv cons
Complex template tags: challenges in setting up internal/external template tags, limiting the usefulness of this feature.
Pricing: limited features in the free version with the paid plan being expensive, especially for larger teams, compared to other transcription services.
Complex technical discussions: leading to loss of some nuances in translation when summarized, requiring users to revisit the original content for full understanding.
Language inaccuracy: with non-native speakers.
Chrome extension issues: affecting the overall user experience.
Content coverage: limited range of content coverage across various topics and sources.
Participant information: no display of meeting participants alongside the recording.
Joining meetings: challenges when joining meetings after the initial 10 minutes, leading to missed recording opportunities.
tl;dv pricing
Free plan with basic features.
$20 per recording user per month billed annually, $25 billed monthly.
Enterprise plan, fees disclosed upon contact with their team.
12. Trint
Trint is a speech-to-text platform that leverages artificial intelligence to transform audio and video content into searchable, editable, and shareable formats.
Using automated speech recognition, Trint automatically transcribes spoken words, allowing users to pinpoint crucial moments within recordings, and combines a text editor with an audio/video player, aligning transcribed text with the corresponding audio or video file.
This platform offers collaboration tools that enable teams to create content, whether working from the office or remotely.
Trint rating on G2
Trint has a 4.4 rating on G2, with 60+ reviews.
Trint pros
Integration with Avid MC: integrates with Avid Media Composer, a complex software to work with, providing translation options and word export features.
Custom playback speed: making it easier to make corrections and work with transcripts.
Unlimited transcription: eliminating the need to worry about per-transaction costs and helping users stay organized within the software by creating folders for each client.
Accurate transcription: even when dealing with complex content, including scientific terms.
Background transcription: allowing users to multitask while transcripts are being generated.
Online editor: allowing users to fine-tune their transcripts efficiently.
Closed captioning support: for both video and audio recordings, enhancing accessibility.
Storytelling tool: an intuitive platform that aids in understanding interview deliveries and refining storytelling.
Trint cons
Accuracy for non-English transcripts: issues when dealing with languages other than English.
Performance with large files: can lead to interface lag and errors in the automatic labeling of speakers during long pauses in speech patterns, requiring manual corrections.
Speaker labeling bugs: mixing up speaker labels after making edits to transcriptions, necessitating manual adjustments.
Confusing multiple uploads: lack of drag-and-drop functionality and inefficient copy/paste options to organize multiple files.
Word processing interface: causing inconsistencies that can disrupt smooth workflows.
Limited client sharing: inability to share individual transcripts with clients.
Speed: slow pace especially in the transcription process.
Expensive pricing: compared to other transcription solutions.
Trint pricing
Starter plan for $48 per user per month billed annually, $60 billed monthly.
Advanced plan for $60 per user per month billed annually, $75 billed monthly.
Enterprise plan, fees disclosed upon contact with their team.
13. Vowel
Vowel is an AI-powered video-conferencing platform that helps users generate instant meeting summaries, live transcription, and action item suggestions.
Vowel caters to the needs of professionals in various industries, facilitating project management, HR documentation, and sales team collaboration. It aims to make meetings more efficient and productive, offering a comprehensive solution for various teams.
Vowel rating on G2
Vowel has a 4.6 rating on G2, with 170+ reviews.
Vowel pros
Enhanced interviewing experience with video conversations, bookmarking, quick transcript availability, and AI-generated summaries.
Ability to track actions recorded during meetings.
Intuitive and uncluttered user interface.
Vowel cons
Transcriptions and summarization features are not always accurate.
Limited integration options with other software.
Difficulty accessing dial-in information during ongoing calls.
Challenges with customer support for resolving application issues.
Vowel pricing
Free plan with basic features.
Business plan for $16.49 per host per month billed annually, $19.99 billed monthly.
Enterprise plan (coming soon), details disclosed upon contact with their team.
14. Airgram
Airgram is an AI-powered tool that allows the extraction of insights from meeting recordings, offers real-time transcription services, and automates summarization tasks.
Integrating with popular video-conferencing tools helps to capture important meeting highlights like notes, meeting recordings, and transcripts, allowing users to share meeting information and track progress across various platforms.
Airgram rating on G2
Airgram has a 4.6 rating on G2, with 80+ reviews.
Airgram pros
Real-time transcription and AI-driven summaries with action items.
User-friendly interface, clear recordings with AI-powered noise-cancellation, and transcription editing options.
Displays videos next to meeting transcript, allowing users to keep track of ongoing calls.
Compatible with third-party applications for efficient task management.
Airgram cons
No admin override for modifying video sharing.
Sometimes fail to record videos or share screen in meetings.
Difficulty recognizing voices in large groups and identifying speakers.
No ability to export without timestamps.
Search functionality needs improvement.
Notes aren't automatically shared with the workspace/team.
Limited export function and integration.
Limited perks in the free plan with paid versions perceived as expensive compared to the provided features.
Airgram pricing
Free plan with basic features.
Plus plan for $18 per user per month, billed monthly.
15. Fathom
Fathom is a meeting assistant for Zoom, Google Meet, and Microsoft Teams, which provides transcriptions and meeting highlights.
The tool facilitates collaborative note-taking and its free plan offers features like automatic call notes, easy highlight sharing, and robust search capabilities as well as a premium plan with additional features.
Fathom rating on G2
Fathom has a 5-star rating on G2, with 1.4K+ reviews.
Fathom pros
User-friendly interface and onboarding process.
Efficient note-taking process with the ability to highlight key moments during meetings.
Shareable AI summaries in various formats like Word or Google Docs.
Automatically integrating with Zoom, Google Meet, and other platforms.
Fathom cons
Difficulty in identifying individual voices in group meetings.
Privacy concerns with the social login requirement for users who don't want to share information with third-party platforms.
Learning curve with some features like ad-hoc meetings and adding Fathom to calls initiated by others.
Recording limitations with last-minute, unscheduled meetings.
Fathom pricing
Fathom is a free app with no usage limitations, but it does offer Fathom Team Edition with additional features, fees disclosed upon contact with their team.
16. Spoke
Spoke is an AI-powered tool designed to enhance your video meetings. It integrates with popular platforms like Zoom, Microsoft Teams, and Google Meet, offering features such as instant meeting reports and real-time agenda tracking.
Spoke helps you prepare meeting agendas and capture important insights during discussions. It provides live AI summaries, including video recordings and transcripts, for efficient information retrieval. Whether you need live AI summaries, video clips, or streamlined meeting agendas, Spoke offers a solution to improve your meeting experience.
Spoke rating on G2
Spoke has a 4.6 rating on G2, with 60+ reviews.
Spoke pros
User-friendly: Spoke is easy to use, making it accessible for all users.
Time-saving: the automatic recording and transcription features save users a significant amount of time, eliminating the need for manual note-taking.
Hands-free note-taking: this capability enhances the meeting experience by allowing users to focus on the conversation without worrying about taking notes.
AI-generated summaries: this provides concise and accurate meeting notes, making it easy to recall important information.
Integration: Spoke integrates with popular video conferencing platforms, like Zoom, Google Meet, and Microsoft Teams, and project management tools like Asana, Trello, and Slack.
Multi-language support: Spoke supports meetings in multiple languages, making it inclusive for international teams.
Action items and follow-ups: the app identifies action items and follow-ups, ensuring that important tasks are tracked and assigned efficiently.
Searchable notes: the ability to search through past meeting notes using keywords or phrases streamlines information retrieval.
Customizable and editable notes: users can easily customize and edit meeting notes during or after the meeting for accuracy.
Spoke cons
Meeting interruptions: Spoke occasionally joins meetings before users, leading to participants starting conversations without them or prematurely removing the Spoke user.
Language issues: users have reported issues with automatic summaries being in the wrong language, missing important information, or being inaccurate.
Recording consent: the automatic recording and transcription feature can compromise users privacy who aren't aware of this feature.
Learning curve: some users may find Spoke's AI-powered features to have a learning curve, and relying on machine-generated notes might not be comfortable for everyone.
User interface: users have reported inconsistencies in the user interface design and desire improvements for a smoother experience.
Technical challenges: technical challenges include issues like with account email and Google Suite connections.
Distracting pop-ups: the meeting assistant pop-up can be distracting, especially during screen sharing, with no option to hide it.
Customization limitations: users have expressed a desire for more customization options, including the ability to brand the recorder for their company.
Spoke pricing
Starter plan for free with basic features.
Premium plan for $24 per user per month billed monthly.
Ultimate plan billed annually, fees disclosed upon contact with their team.
17. Verbit
Verbit is a transcription and captioning platform known for its AI-driven solutions. It employs advanced voice recognition AI to expedite transcription tasks with adaptability to unique audio characteristics. Verbit's real-time job tracking via the Verbit Cloud portal and third-party integrations enhance workflow efficiency.
Verbit's services extend to translation, dubbing, and audio descriptions to ensure content accessibility. Additionally, it provides specialized legal transcription tools designed for court reporting agencies, offering efficiency and accuracy with AI technology and trained professionals familiar with legal terminology.
Verbit rating on G2
Verbit has a 4.4 rating on G2, with 60+ reviews.
Verbit pros
Customer support: responsive and accommodating customer service, timely problem resolution, and dedicated account managers.
Accessibility and compliance: provides 508 compliant closed captioning, supports ADA standards for educational institutions, and ensures accessibility for deaf and HOH students.
Ease of use: intuitive and user-friendly interface, offering quick and efficient transcription and captioning.
Accuracy and turnaround time: impressive accuracy in transcriptions and captions, providing swift turnaround time, often same-day service.
Versatile Platform: allows easy upload of multiple video files and offers options for transcripts and caption files.
Professional captioners: captioners are professional, personable, and accurate.
Broad Language Support: offers multiple language options for live captioning.
Prompt Scheduling and preparation: efficient scheduling platform, facilitating timely delivery of prep materials to captioners and reliable and punctual captioner attendance.
Verbit cons
Accuracy and accent recognition: inaccuracies in transcriptions, especially with speakers having accents, and may not recognize multiple speakers effectively, resulting in improper formatting.
Technical issues and limited integration: occasional technical glitches and bugs in the platform, limited support for YouTube video captioning, and connectivity issues with Vimeo integrations.
Human review quality: instances of inappropriate words or errors in transcripts even after human review and misspelled words and misinterpretations in highly technical content.
Billing and silence inclusion: billing required for the entire video length, including silent portions, with a lack of clarity regarding billing for silence.
Need for manual transcript review: sometimes transcriptions require extensive manual review and editing for accuracy.
Subcontracted live captioners: subcontracting live captioners from third parties can lead to no-shows.
Billing process and late appointments: quarterly billing may not align with actual usage periods, with difficulty in correcting charges for late appointments, requiring contact with a representative.
Verbit pricing
Verbit's pricing packages are disclosed upon contact with their team.
The bottom line
With this article's comprehensive list of meeting transcription tools, you now have a clear understanding of what each of them has to offer.
Many professionals in various fields from project management, sales, and HR to journalism and teaching are now growing interest in finding the right transcription tool that will save hours of manual work and enhance their productivity.
But why just look for a tool to transcribe your meetings? adam.ai allows you to capture the true essence of meetings by managing your entire meeting lifecycle before, during, and after meetings.
Here are a few reasons to choose adam.ai:
Don't forget to share this post

Shaimaa Badawi
About the author ...
Content creator, passionate storyteller, and a pet lover
Subscribe to our blog
Get the latest blog posts sent straight to your inbox.