Published October 3, 2023
-
35 mins read
23 Best Meeting Management Software Solutions (with User Reviews)

Shaimaa Badawi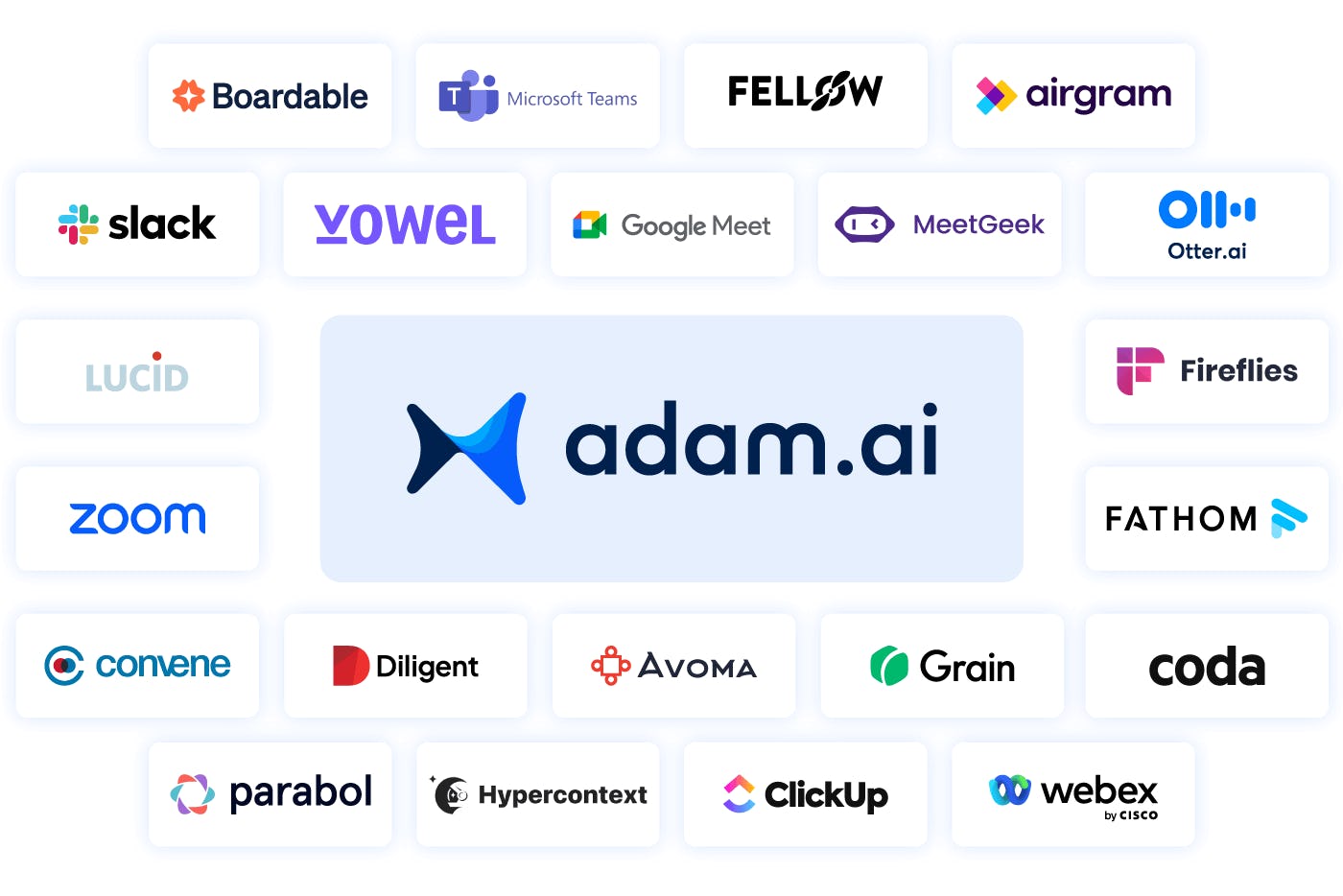 In today's fast-paced professional landscape, meetings are the center of every successful business. However, having effective meetings with valuable insights and outcomes is a whole other matter.
Meeting pain points vary from conducting unnecessary, time-consuming meetings to being unable to organize meeting content or achieve clear objectives. And then there's the matter of settling on which tool can help you best manage your meetings.
In this article, we will outline some of the best meeting management software solutions you can find that cater to all individuals and organizations. Whether you're seeking a smart note-taking tool, video-conferencing platform, or a virtual assistant, with the detailed pros and cons list outlined here for each platform, you'll surely be able to figure out the right meeting management software for your business needs.
1. adam.ai
adam.ai is an all-in-one meeting management platform that allows you to manage your entire meeting lifecycle before, during, and after meetings.
When it comes to a comprehensive meeting management experience, there are crucial aspects to ensure running effective meetings:
1. A powerful scheduling platform with the ability to sync all your calendars in one place and create your own booking pages with easy guest access.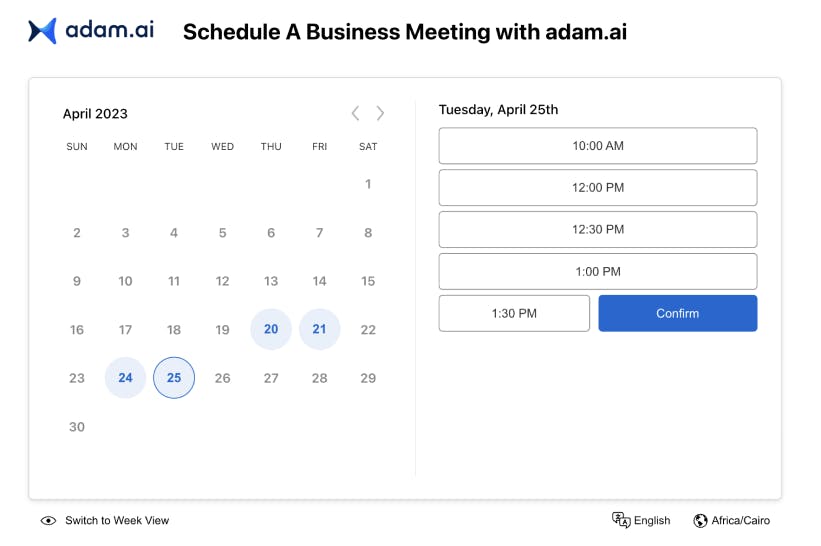 Screenshot from adam.ai: Booking link.
2. A smart, more collaborative note-taking feature to capture the meeting knowledge and encourage attendees to engage during meetings.
3. Built-in video conferencing displayed side-by-side with the meeting content for enhanced collaboration and productivity and the ability to integrate with popular video-conferencing tools you're familiar with.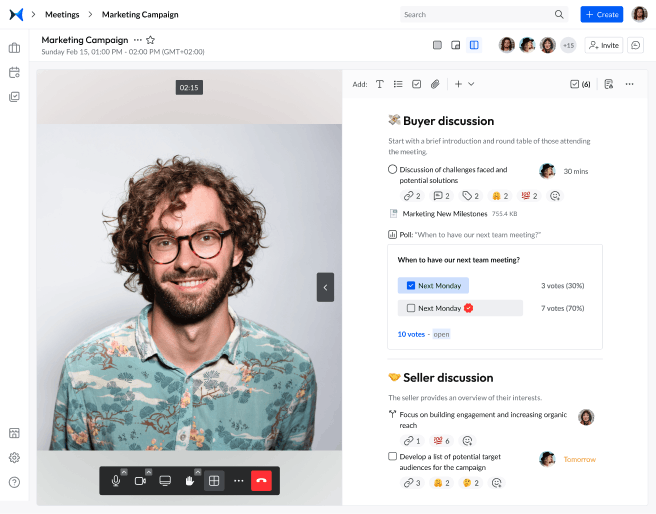 Screenshot from adam.ai: Built-in video conferencing side-by-side with meeting content.
4. A gallery of customizable meeting templates that will kickstart your meetings without delay, organize your meeting agenda, and ensure timely meetings.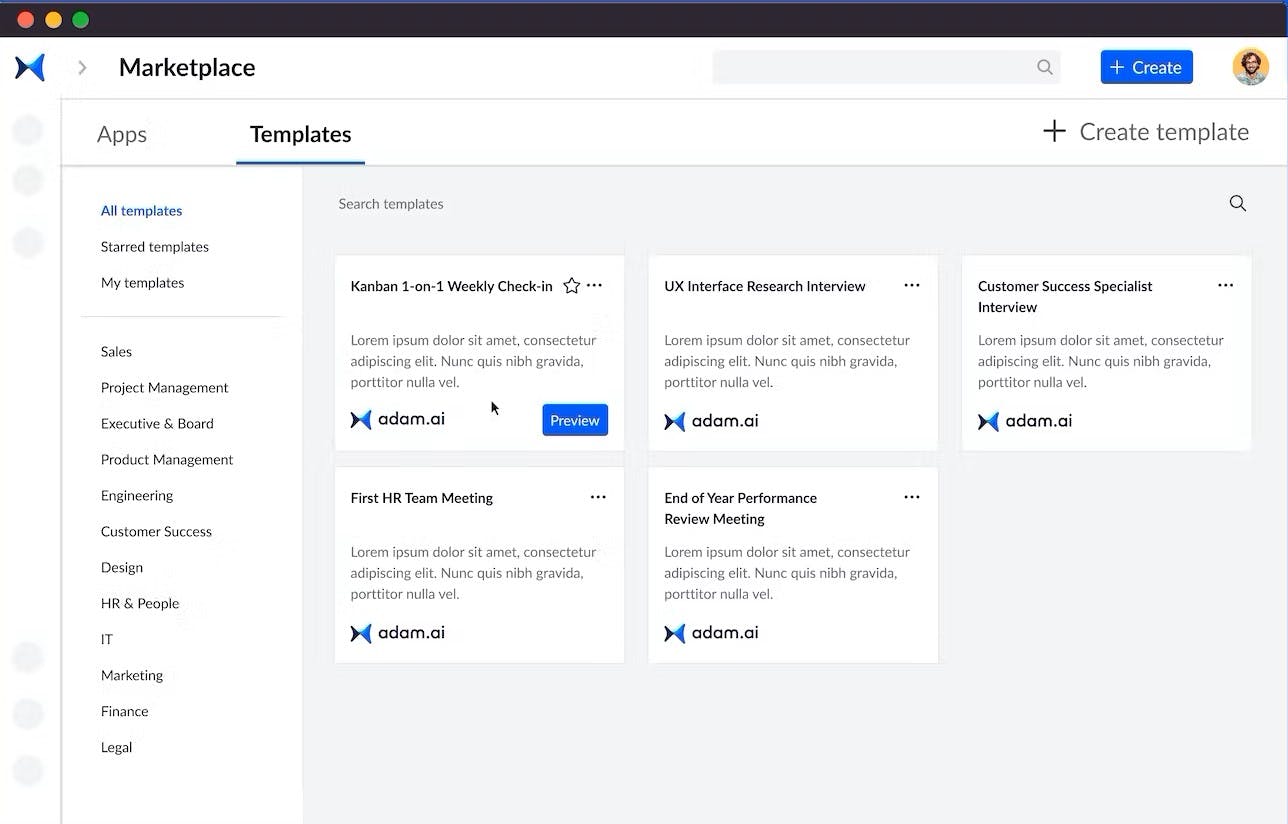 Screenshot from adam.ai: Meeting templates.
5. A solid action tracker that ensures no task goes unfinished with the ability to search for actions across all meetings.
Screenshot from adam.ai: Manage actions.
6. Categorizing meetings into spaces and having all their content under a specific umbrella for easy access.
Screenshot from adam.ai: Meeting spaces.
7. Generating and sharing meeting minutes for due diligence, especially in board meetings, and to keep a record for your reference.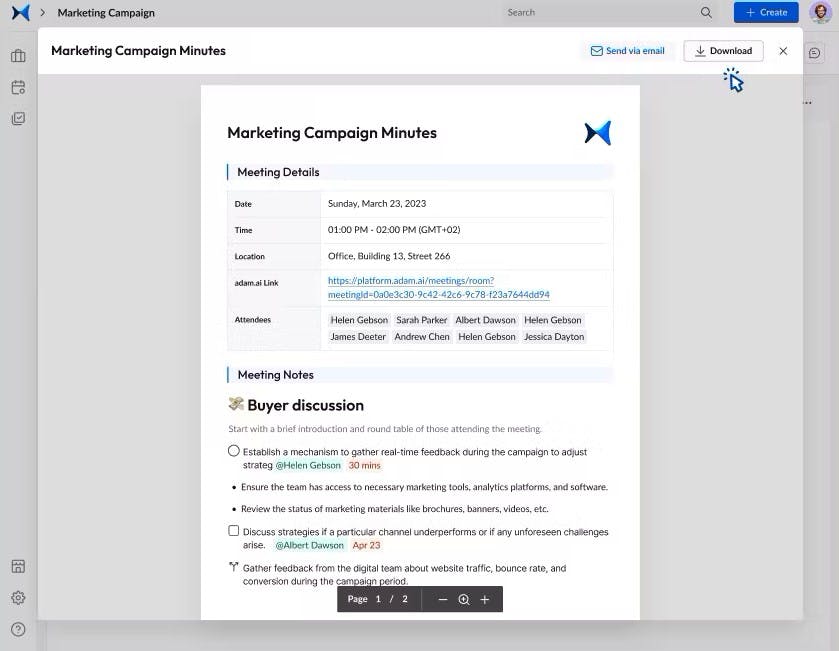 Screenshot from adam.ai: Meeting minutes.
8. An AI-powered meeting assistant that enhances your meeting content, generates meeting transcripts, suggests agendas, and highlights action items and key insights.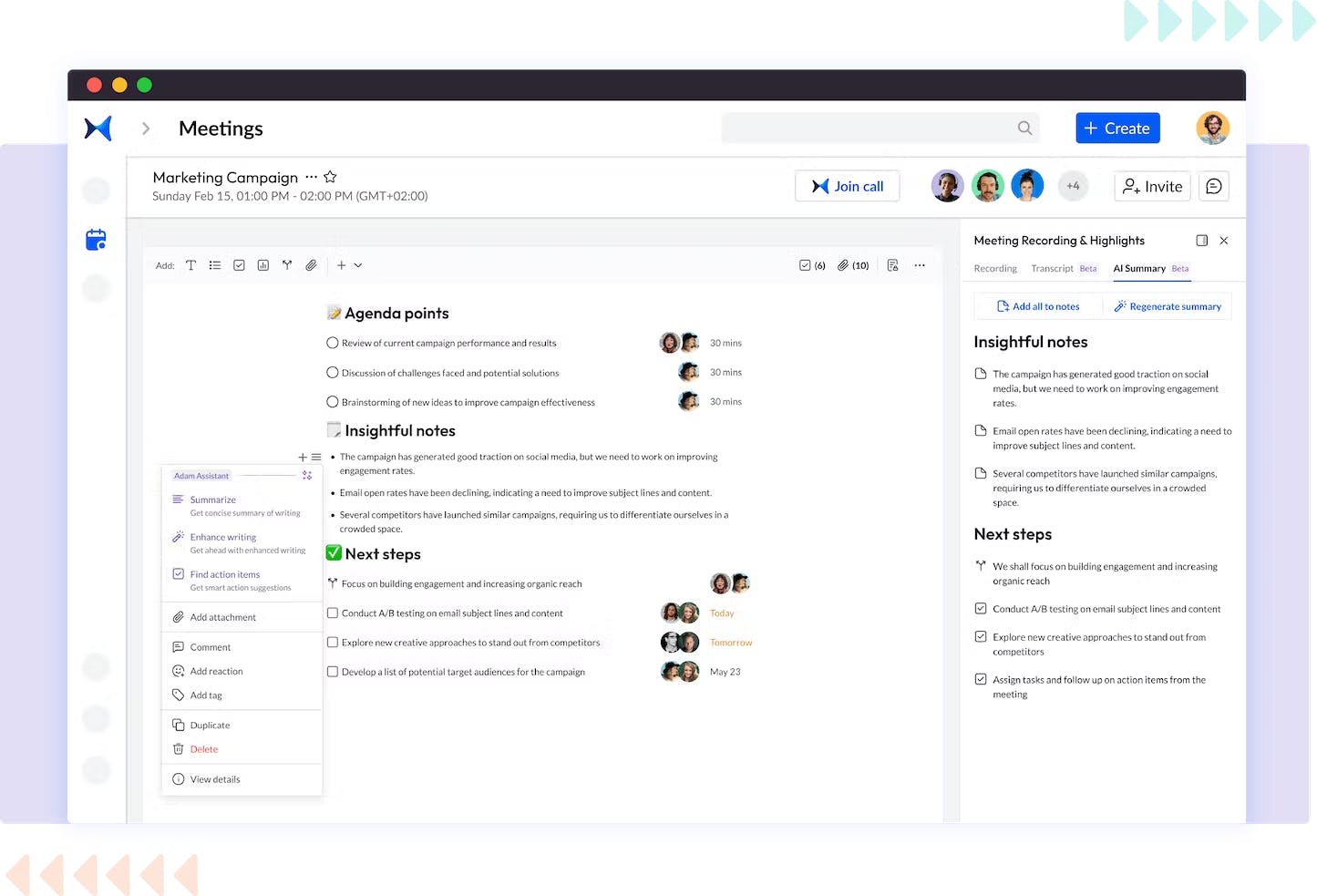 Get started right now for free to experience the true meaning of all-in-one meeting management.
2. Zoom
Zoom is a cloud-based video conferencing platform widely adopted by businesses and educational institutions alike. In addition to standard video meetings, Zoom presents an array of features encompassing screen sharing, breakout rooms, digital whiteboarding, and polling, amplifying the collaborative potential of virtual gatherings.
Notably, Zoom seamlessly integrates with platforms like Canvas, rendering it particularly conducive to online educational sessions and the archiving of recorded classes. Furthermore, Zoom empowers session hosts with the ability to efficiently manage participant roles, thereby ensuring the security and smoothness of virtual interactions. With its comprehensive suite of tools, Zoom serves as a versatile communication solution adaptable to a multitude of scenarios.
Zoom rating on G2
Zoom is very popular on G2 with a 4.5 rating from 53k+ reviews.
Zoom pros
User experience: Zoom's platform is user-friendly, easy to navigate, and designed for users of all technical proficiencies.
Accessibility: participants can join a meeting without the need for membership or complex processes.
Adaptability: suitable for various settings, from casual chats to large-scale business meetings and webinars.
Features and functionalities: screen sharing, recording and transcription, chat, polling, whiteboard, and breakout rooms.
Zoom cons
Connectivity and quality issues:
(a) Occasionally experiences connectivity problems such as audio or video interruptions, frozen screens, and dropped calls.
(b) High-resolution video requires significant internet data, which can be a challenge in areas with poor connectivity.

Features and limitations:
(a) Absence of a note-taking feature during meetings.
(b) The free version has time restrictions, often 40 minutes to 1 hour.
(c) Frequent updates occasionally cause compatibility issues with older hardware or software.
 
Pricing and subscription concerns:
(a) Zoom's subscription can be expensive, particularly for individual users or small businesses.
(b) Some desired features are behind a paywall, requiring an upgrade.
(c) Live support requires an additional payment despite having already paid for the software.
 
Security and privacy:
(a) Historical concerns over privacy, including storage of user data.
(b) Past security breaches have raised questions about Zoom's capability to protect sensitive information.
(c) Anyone can access meetings with just the user ID and password, potentially risking privacy.
 
User experience and usability:
(a) Restrictions on adding any email address to the co-host drop-down menu.
(b) "Zoom fatigue" can result from lengthy meetings, leading to eye strain and reduced engagement.
(c) The platform's constant evolution may pose a learning curve for some users, especially with new features.
Zoom pricing
Basic plan for free.
Pro plan for $149.90 per user per year billed annually, $14.99 billed monthly.
Business plan for $199.90 per user per year billed annually, $19.99 billed monthly.
Business Plus plan, fees disclosed upon contact with their team.
Enterprise plan, fees disclosed upon contact with their team.
3. Webex
Cisco Webex is a comprehensive collaboration platform designed for easy team connectivity, offering messaging, file sharing, real-time communication, and digital whiteboards. It supports secure virtual workspaces for various project durations and integrates with third-party apps for a seamless workflow.
Cisco Webex includes Webex Meetings, Webex Teams, and Webex Devices, providing online meetings and integrated web and video conferencing. It caters to small and large groups, offering desktop, mobile, and web access. The platform prioritizes security and management, with encryption, zero trust security, and data sovereignty options.
Webex rating on G2
Webex has a 4.3 rating on G2, with 14K+ reviews.
Webex pros
Collaboration features: include screen sharing, whiteboarding, and chat.
User-friendly interface: easy scheduling and joining of meetings.
Integration: integrates with apps like Outlook and Google Calendar.
Automatic notes transcription: automatically transcribes meeting notes.
Interactivity: supports polling and Q&A sessions.
Flexible pricing: adaptable to different business sizes.
Webex cons
Limited trial version: the trial version offers only 45 minutes per session for meetings, which can be restrictive for longer configurations or service processes.
Free version limitations: while a free version is available, many advanced features, larger participant limits, and enterprise-level capabilities require a paid membership.
High memory usage: the application consumes significant memory resources, causing lag on average-range machines.
Presentation window selection: inability to select presentation windows in Webex while sharing PowerPoint, often due to hidden presentation notes.
Learning curve: navigating through menus and accessing certain settings may require a learning curve.
Webex pricing
Webex free plan with basic features.
Webex Meet plan for $12 per license per month billed annually, $14.50 billed monthly.
Webex Suite plan for $22.50 per license per month billed annually, $25 billed monthly.
Webex Enterprise plan, fees disclosed upon contact with their team.
4. Microsoft Teams
Microsoft Teams is an integrated collaboration platform within Microsoft Office 365. Launched in 2017, it offers document sharing, online meetings, and chat channels.
It integrates with other Microsoft 365 services like SharePoint, Outlook, and more. Microsoft Teams provides text chat, video conferencing, and features such as screen sharing, polls, and live captions. It simplifies workplace communication and collaboration, especially for organizations already using Microsoft products.
Microsoft Teams rating on G2
Microsoft Teams has a 4.3 rating on G2, with 14K+ reviews.
Microsoft Teams pros
Efficient meetings: simplifies meeting management, allowing tagging and calling participants, as well as sharing specific applications for cleaner presentations.
Collaboration: offers a robust suite of features, making it a one-stop solution for communication, file sharing, and project collaboration.
User-friendly interface: its user-friendly interface with a clear categorization of functions like calls, calendar, and files enhances usability.
Integration with Microsoft Suite: integration with Microsoft 365 apps like Word, Excel, and Power BI streamlines workflows and increases productivity.
Microsoft Teams cons
Resource intensive: Teams can be resource-intensive and may slow down startup or boot times, especially on older devices.
Notifications overload: the notifications system can become overwhelming, leading to potential missed messages and disruptions, particularly when screen sharing is active.
Cluttered interface: as teams and channels grow, the interface can become cluttered and complex, making navigation less intuitive, especially for new users.
Learning curve: new users may find Teams initially challenging due to its feature-rich interface, and it may take time to become accustomed to its functionalities.
Compatibility issues: Teams' compatibility with different operating systems and browsers can vary, leading to potential issues, especially for Linux users.
Meeting time delay: Teams may experience delays when joining meetings, affecting punctuality and efficiency.
Microsoft Teams pricing
Microsoft Team Essentials plan for $4.00 per user per month.
Microsoft 365 Business Basic plan for $6.00 per user per month.
Microsoft 365 Business Standard plan for $12.50 per user per month.
5. Google Meet
Google Meet is Google's video conferencing app available to anyone with a Google account. It supports up to 100 participants for meetings of up to 60 minutes.
For larger enterprises, Google Workspace offers extended features, allowing meetings with up to 250 participants and livestreaming to a potential audience of 100,000. Google Meet is business-focused, integrates with G Suite apps, and even provides dial-in options for those with poor internet connectivity. It's a versatile tool for both individuals and organizations.
Google Meet rating on G2
Google Meet has a 4.6 rating on G2, with 1.4K+ reviews.
Google Meet pros
User-friendly and accessible: offers a clean and intuitive user interface accessible on various devices and web browsers.
Google integration: integrates smoothly with Gmail, Google Calendar, and other Google services for easy scheduling and participation.
Effortless collaboration: facilitates effective collaboration through features like screen sharing, hand raising, text chat, and whiteboarding.
Convenient meeting management: hosts have control over meeting settings, including chat, audio, and video, ensuring efficient and organized meetings.
Long meeting durations: allows for extended one-on-one meetings, lasting up to 24 hours, on the free plan.
Google Meet cons
High data consumption: consumes a significant amount of data, especially during video conferencing and screen sharing, which may not be ideal for users with limited data plans.
Limited meeting duration: while one-on-one meetings can last up to 24 hours on the free plan, group meetings are limited to 60 minutes, which can be restrictive for longer discussions.
Participant limits: the free plan restricts the number of participants to 100, which may not suffice for larger gatherings or seminars.
Security features: the free plan has fewer security features compared to the paid version, potentially raising concerns for users with strict security requirements.
Compatibility issues: Google Meet may encounter compatibility problems with less common web browsers, such as Safari.
Limited customization: users have limited customization options compared to other video conferencing platforms, leading to less control over the interface and features.
Google Meet pricing
Google Meet is included in the Google Workspace pricing plan along with several Google apps.
Business starter plan for $6 per user per month.
Business standard plan for $12 per user per month.
Business plus plan for $18 per user per month.
Enterprise plan, fees disclosed upon contact with their team.
6. Fellow
Fellow is a meeting productivity and team management app designed to elevate your meeting productivity and team coordination. It simplifies note-taking, fosters collaboration, and harnesses AI for streamlined meeting processes.
With a focus on enhancing your meeting experience, Fellow also ensures effective action management and seamless integration with your preferred work tools and virtual conferencing applications.
Fellow rating on G2
Fellow has a rating of 4.7 on G2 from 1.7k+ reviews.
Fellow pros
Centralized efficiency: combines multiple tasks and documents into a singular, searchable space, reducing unnecessary tabs and documents.
Integration and compatibility: integrates with various apps for quick note preparation and real-time sharing.
Task and action management: enables real-time task assignment and efficiently carries forward uncompleted items, streamlining follow-ups.

Fellow cons
Note and meeting management:
(a) Difficulty locating notes tied to removed or declined calendar events.
(b) Challenges in associating previous meetings with upcoming ones when guest lists differ.
(c) Desire for better management of private notes, improved accessibility to past meeting notes, and the option to title notes.
Template and design concerns:
(a) Difficulty navigating the multitude of available templates.
(b) Desires for inline images, more control over link formatting, and permission-based notes.
(c) Some users experience formatting glitches in full-screen mode with Chrome.
Features and functionality:
(a) The Streams feature can be challenging to use.
(b) Users must pay to export to Google Docs.

Fellow pricing
Free plan for up to 10 users for unlimited time.
Pro plan for up to 50 users, for $6 per user per month billed annually, $9 billed monthly.
Business plan, for $8 per user per month billed annually.
Enterprise plan, fees disclosed upon contact with their team.
7. Convene
Azeus Convene is a board management solution developed by Azeus Systems LTD, primarily focused on optimizing remote board meetings. It offers a range of essential features, including meeting scheduling, integrated video conferencing, secure document storage, and efficient distribution of meeting minutes.
The software aims to modernize and streamline digital meetings while promoting environmental sustainability by reducing paper usage. Convene caters to a diverse range of sectors, including financial institutions, governmental bodies, educational institutions, and non-profit organizations.
Convene rating on G2
Convene has a rating of 4.7 on G2, with 200+ reviews.
Convene pros
Meeting management: streamlined meetings, decision-making, board agendas, and meeting schedules.
Document management: effective document-sharing, integrated storage, and intuitive library.
Collaboration tools: real-time engagement for remote attendees and integrated video conferencing and in-meeting tools.
Security: robust features including end-to-end encryption.
Convene cons
Learning curve:
(a) Initial familiarity with the platform can be challenging.
(b) Some users find the setup and customization non-intuitive.
Cost:
Priced higher than some competitors, potentially limiting for budget-conscious organizations.
Feature gaps:
(a) Lack of document editing and "track changes" functionality.
(b) Limited customization for surveys.
(c) Absence of screen-sharing a specific window during meetings.
(d) No current integration with popular calendar services.
Convene pricing
Convene's pricing is disclosed upon contact with their team and based on an annual per-user license model.
8. Boardable
Boardable is a nonprofit board management software that empowers organizations to streamline board meetings and collaboration. It simplifies meeting scheduling, agenda creation, digital voting, and document management.
It's tailored for charities, foundations, healthcare, schools, and various other sectors, enhancing transparency and efficiency in mission-critical meetings. The platform continually evolves with features like video meetings and robust reporting, making it a valuable tool for nonprofit boards seeking to optimize their operations and maximize impact.
Boardable rating on G2
Boardable has a 4.6 rating on G2, with 130+ reviews.
Boardable pros
Centralized document management: keeps all legal documents, position descriptions, and orientation materials in one place, simplifying board member onboarding and discussions.
Collaboration and document editing: facilitates discussions, polls, document editing, and meeting minute creation in one platform, enhancing efficiency for small organizations.
Meeting scheduling and reminders: users can schedule meetings and store board documents in one location, with automatic email reminders for board members.
Template creation and customization: users can create and edit templates within Boardable.
Boardable cons
Learning curve: new users may experience a learning curve when navigating the platform.
Document storage structure: issues with document folder structure and limited document format options.
Video conferencing glitches: built-in "Spotlight" video conferencing is reported to have occasional glitches.
Email restrictions: some organizations block Boardable emails on their company email servers and users can't easily change email addresses on meeting invitations after initial setup.
Integration challenges: integration with other software and non-users can result in functionality loss.
Document formatting: limited options for formatting minutes and documents.
Cost for small nonprofits: some users find Boardable costly for small nonprofit organizations.
Boardable pricing
Free plan with basic features.
Essentials plan starting at $17.99 per user per month.
Professional plan starting at $26.99 per user per month.
Enterprise plan, fees disclosed upon contact with their team.
9. Diligent Boards
Diligent Boards is a versatile content management solution that facilitates efficient board meetings and governance. It offers a modern governance platform trusted by a wide range of industries, enhancing collaboration, accessibility, and security for board members and administrators.
The platform digitizes meeting materials, enables real-time communication, and supports data-driven decision-making, making it an essential tool for organizations aiming to streamline their governance processes.
Diligent Boards rating on G2
Diligent Boards has a 4.5 rating on G2, with 160+ reviews.
Diligent Boards pros
Secure repository: for meeting materials, eliminating the need for traditional email or postal distribution.
Customization and updates: allows customizable access and ability to update meeting materials, including copying and updating previous books.
User-friendly: intuitive interface that simplifies the creation of board books.
Versatility: serves multiple purposes like D&O questionnaires, document signing, and communication.
Customer Support: effective and accessible customer support that includes training sessions.
Diligent Boards cons
Complex building process: cumbersome, unintuitive process of building books, with a lot of back-and-forth between screens.
Limited administrator functions: administrators express the need for more functions to be handled independently, such as adding/removing users and modifying downloaded documents.
Lack of search features: users desire improved search features for books and more advanced email capabilities.
Configuration challenges: configuring single sign-on and multi-factor authentication has been challenging for some organizations, with inconsistent support responses.
Cost: some users mention that the cost could be more competitive, allowing for more administrators and end-users.
Notifications and audit trail: users suggest the need for better tracking, notifications, and audit trails for actions taken within the platform.
Variability in user experience: the user experience is occasionally described as clunky and not always consistent throughout the platform.
Diligent Boards pricing
Pricing request is to be filled on their website.
10. Otter
Otter is an AI-driven transcription tool that proficiently converts spoken language into text. This service offers convenient on-the-go recording through its mobile app and the ability to effortlessly upload audio or video files for transcription. Moreover, it features the Otter Bot, capable of transcribing video meetings efficiently.
Otter's seamless integration with popular video-conferencing platforms like Zoom, Microsoft Teams, and Google Meet ensures the automatic capture of meeting notes, enhancing productivity across various scenarios, from critical business meetings to educational lectures.
Otter rating on G2
Otter has a rating of 4.0 on G2, with 110+ reviews.
Otter pros
Functionality: real-time transcriptions, recording capabilities, and the "Otterpilot" for webinars.
User experience: user-friendly and intuitive software, accommodating various accents and speech patterns.
Features: facilitates meeting participation by automatically capturing notes, provides accessibility features like closed captions, and enables easy sharing of notes with participants.
Value: the premium plans are cost-efficient.
Otter cons
Privacy and security:
(a) Can accidentally transcribe sensitive information with no edit feature.
(b) Visible to all on video calls, which might affect meeting dynamics, especially with AI-wary individuals.
Unexpected charges and refund challenges:
(a) Might push users to higher-tier subscriptions by making it difficult to use lower-paid tiers or change plans.
(b) Limited features on the free plan and concerns over cost-efficiency for SMBs.
Accuracy:
(a) Some users find transcription accuracy to be less than ideal, especially for non-US accents, poor audio quality, or mumbling.
(b) The AI sometimes lumps multiple speakers as one or mislabels them.
(c) Transcriptions might need manual editing, even with clear audio.
User experience:
(a) Some users want better sharing options, offline data handling choices, or enhanced audio-editing capabilities.
(b) Desires for additional features like action item identification.
(c) Technical glitches and potential slow responsiveness.
Otter pricing
Basic plan for free.
Pro plan for $10 per user per month billed annually, $16.99 billed monthly.
Business plan for $20 per user per month billed annually, $40 billed monthly.
Enterprise plan, fees disclosed upon contact with their team.
11. Airgram
Airgram is an AI-powered tool tailored to enhance the landscape of meeting management. Its core functionalities encompass the extraction of invaluable insights from meeting recordings, the provision of real-time transcription services, and the seamless automation of summarization tasks.
Its integration with prominent platforms such as Zoom, Google Meet, and Microsoft Teams, aids in centralizing crucial meeting components, including meeting notes, video recordings, and transcripts into a unified repository. This allows users to engage in collaborative note editing, task assignment with due dates, and information sharing across diverse platforms.
Airgram rating on G2
Airgram has a 4.6 rating on G2, with 80+ reviews.
Airgram pros
Transcription and summarization: real-time transcription and AI-driven summaries broken down into sub-sections like takeaways and follow-up items.
User interface and experience: user-friendly interface, clear recordings with AI-powered noise-cancellation, and ability to edit and ensure transcript accuracy.
Recording and video capabilities: video side-by-side with transcript, allowing users to segment and tag calls for better organization, and high recording clarity.
Efficiency and productivity: centralizes meeting reviews and follow-ups and is compatible with third-party applications for enhanced task management.
Airgram cons
Recording and sharing:
(a) No option for external viewing of video recordings.
(b) No admin override for modifying video sharing.
(c) Occasional failure to record video or shared screen content in meetings.
Voice recognition and transcription:
(a) Difficulty recognizing voices in large groups.
(b) Challenges in speaker identification.
(c) No ability to export without timestamps.
(d) AI summaries occasionally miss the mark.
User interface and experience:
(a) Search functionality needs improvement.
(b) Some users find UI buttons small and difficult to navigate.
Access and integration:
(a) Notes aren't automatically shared with the workspace/team.
(b) Limited export function and integration, especially with Google Drive.
(c) Limited features on the free plan.
Subscription and limitations:
(a) Reduced benefits for free accounts (e.g., fewer recordings allowed).
(b) Higher subscription fees compared to perceived value.
Airgram pricing
Free plan with basic features.
Plus plan for $18 per user per month, billed monthly.
12. Lucid Meetings
Lucid Meetings is a team management software solution designed to improve business meetings. It aims to enhance human interaction and help teams run discussions efficiently. The software offers guidance on potential issues that can disrupt team harmony and encourages collaborative meetings to boost engagement and performance.
It consolidates tools for meeting organization, preparation, execution, and documentation into an online platform. Participants coordinate meeting times, contribute to the agenda, and capture decisions collectively. It's commonly used for productivity suites, chat, web conferencing, file sharing, note-taking, project management, and task management.
Lucid Meetings rating on G2
Lucid Meetings has a 4.0 rating on G2, with 15+ reviews.
Lucid Meetings pros
User-friendly efficiency: streamlined and user-friendly interface for organizing meetings.
Integration capabilities: integrates with software like Microsoft Teams for reliability.
Employee engagement: enhances team engagement, cultural alignment, and productivity.
Real-time collaboration: enables real-time screen sharing and meeting recording for effective online collaboration.
Lucid Meetings cons
Limited video saving: the platform doesn't offer video-saving options, potentially missing out on important content storage.
Technical glitches: occasional technical problems disrupt meetings, requiring participants to rejoin, causing interruptions.
Complex reinstallation: reinstalling Lucid Meetings can be convoluted, involving reapproval and potential week-long delays.
Calendar integration limitation: integrating with all calendar platforms, such as Zoho Calendar, can be challenging.
Learning curve for agenda management: mastering agenda management within the platform may take time and effort.
Lucid Meetings pricing
Teams plan for $12.50 per host billed monthly, $108 billed annually.
Business plan for $249 per month, $2388 billed annually.
Enterprise plan, fees disclosed upon contact with their team.
13. ClickUp
ClickUp is a cloud-based project management tool designed to accommodate teams of varying sizes. It provides customizable features like Calendar, Timeline, and Time Tracking in a user-friendly interface.
With a hierarchical structure, it adapts to different business needs and offers ClickApps add-ons for specialized team functions. Additionally, ClickUp integrates task management, documentation, reminders, and calendar capabilities, allowing teams to streamline their work processes within a unified platform.
ClickUp rating on G2
ClickUp has a rating of 4.7 on G2, with 88K+ reviews.
ClickUp pros
Ease of use and customization: intuitive interface and customizable to cater to individual and team needs.
Task management: creating tasks, subtasks, and checklists, recurring reminders, and task automation.
Collaboration and communication: facilitates collaboration with features like comments, task mentions, and real-time editing and has built-in chat and notification systems to keep teams in sync.
Time management and productivity: built-in time tracking for monitoring time spent on tasks and projects and ability to manage tasks, projects, and personal schedules in one place.
Versatility and flexibility: can be used for varied workflows and facilitate work across different teams and departments, sharing documents, tasks, and templates.
ClickUp cons
Performance and speed: some users have reported occasional slowness when refreshing tasks or switching between lists.
Communication around updates: users feel that there's room for improvement in communication regarding the timing of updates and rollouts, particularly during significant releases.
Learning curve: ClickUp's extensive customization options and features can pose a steep learning curve for new users, requiring time for team onboarding and training.
Pricing considerations: depending on the size and specific needs of your company, ClickUp's pricing may be perceived as relatively expensive.
Integration challenges: users have expressed a desire for better integration with tools like Gmail and noted that the current integration options can be cumbersome.
Complexity: ClickUp's complexity can be daunting for some users, with a learning curve and potential difficulty in understanding and navigating all its functions.
Resource management: users have expressed a desire for better resource management features, such as the ability to assign tasks to specific milestones or project goals.
ClickUp pricing
Free forever plan with basic features.
Unlimited plan for $7 per member per month billed annually, $10 billed monthly.
Business plan for $12 per member per month billed annually, $19 billed monthly.
Enterprise plan, fees disclosed upon contact with their team.
14. Hypercontext
Hypercontext is a meeting management tool that automates performance reviews using meeting notes and goals. It seamlessly integrates with platforms like Slack and Microsoft Teams.
It provides templates for various meeting types and access to a library of role-specific and personal development goal examples. This tool simplifies performance management, enhances collaboration through real-time feedback, and offers valuable resources for improving leadership and management skills.
Hypercontext rating on G2
Hypercontext has a 4.5 rating on G2, with 40+ reviews.
Hypercontext pros
Meeting management: offers a simple structure for organizing meetings and keeps track of discussion points and tasks.
Enhanced collaboration: helps teams record, organize, and execute tasks and ideas generated during meetings.
User-friendly interface: offers a user-friendly interface and simplifies task tracking and data enrichment.
Actionable meeting notes: users can easily reference meeting notes, set up next steps, and assign tasks.
Resources and templates: the tool provides templates, resources, and examples for meeting agendas and questions, aiding users in conducting more efficient and effective meetings.
Google Calendar and Google Meet Integration: simplifies the scheduling and conduct of meetings.
Hypercontext cons
Limited third-party integration: the current integration options are somewhat limited, and it creates a separate data silo for tasks, which can be redundant for teams using other tools like Asana.
Glitches and usability issues: can be glitchy at times, especially when accessed from Google Calendar. It may not open to the correct agenda or can have issues with closing meetings or tasks properly.
Voting feature usability: some users find it challenging to use the voting feature and wish for a more intuitive templatization of metrics in the Personal Goals section.
Lack of intermediate user level: some users would like to see an intermediate user level with viewing privileges only.
Text section flexibility: users desire more flexibility in text sections and the ability to add attachments as visual elements within the text, rather than just as links at the bottom.
Limited Outlook integration: users note that Hypercontext is not fully integrated with Outlook, which may be a drawback for those heavily reliant on Outlook for email and calendar management.
Navigational learning curve: Navigating the interface, especially with many options for notes and follow-ups, may take some getting used to.
Hypercontext pricing
Basic plan for free.
Pro plan for $5.60 per person per month billed annually, $7 billed monthly.
Business plan for $8.80 per person per month billed annually, $11 billed monthly.
15. Avoma
Avoma is an AI meeting assistant for customer-facing teams. It automates meeting data capture, offers transcripts, summaries, and insights synced with your CRM, streamlines meeting management, and boosts customer satisfaction by shortening sales cycles.
Avoma's AI analyzes conversation insights and integrates with platforms like Salesforce and HubSpot. It's ideal for businesses of all sizes, offering flexible pricing. Overall, Avoma empowers teams with AI-driven tools to streamline processes and enhance outcomes.
Avoma rating on G2
Avoma has a rating of 4.6 on G2, with 1K+ reviews.
Avoma pros
Meeting review: simplifies the process of reviewing recorded meetings.
Accurate transcriptions: enables users to capture meeting details without manual note-taking.
Actionable insights: provides insights and summaries that help users identify trends, key points, and action items across multiple meetings.
Customizable snippets: users can create and share call snippets, helping to highlight important conversations and share them easily.
User-friendly interface: Avoma's user-friendly dashboard and searchable transcripts simplify the process of reviewing meeting notes and recordings.
Avoma cons
Notes organization complexity: while the notes organization feature is useful, it may require some adjustments to match communication styles, and errors can occur during the process.
Voice-to-text challenges: Avoma's voice-to-text technology can struggle with multiple speakers and may toggle back to the original speaker during manual assignments.
Learning curve: some users experienced a learning curve with the menu and occasional issues with meeting tags.
Set-up challenges: setting up Avoma can be time-consuming, and there are still some intuitive aspects that could be improved.
Delayed joining: Avoma may take 5-10 minutes to join impromptu meetings, and in Google Meet, other participants can deny access to the notetaker, requiring manual re-entry.
Transcription accuracy: While generally accurate, Avoma's transcriptions may not always correctly understand or attribute words, especially with accents.
Pricing for small businesses: Avoma's pricing may be relatively higher for smaller businesses, and it may not fully support all language options and integration preferences.
Summary accuracy: AI-generated summaries may not always be 100% accurate, requiring manual verification for critical information.
Avoma pricing
Basic plan for free.
Starter plan for $19 per user per month billed annually, $24 billed monthly.
Plus plan for $49 per user per month billed annually, $59 billed monthly.
Business plan for $79 per user per month billed annually.
Enterprise plan for $149 per user per month billed annually.
16. Fathom
Fathom is a meeting assistant for Zoom, Google Meet, and Microsoft Teams. It records, transcribes, and highlights key moments, simplifying note-taking. The tool offers free and premium plans with features like automatic call notes synced to your CRM, easy highlight sharing, and robust search capabilities.
It supports multiple languages and ensures top-notch security standards. Fathom streamlines your video meetings, making them more efficient and productive.
Fathom rating on G2
Fathom has a 5-star rating on G2, with 1.4K+ reviews.
Fathom pros
User-friendly onboarding: users appreciate Fathom's ease of use, especially during onboarding.
Efficient meeting notes: Fathom streamlines the note-taking process by allowing users to highlight key moments during meetings.
AI summaries: can be quickly shared or saved in various formats like Word or Google Docs.
Integration and automation: Fathom integrates with Zoom, Google Meet, and other platforms, launching automatically for each call.
Highlighting and action items: highlights important moments and marks action items during meetings.
Transcription quality: Fathom's transcription accuracy, even with low-quality audio, is highly praised.
Time-saving: Fathom saves users time by eliminating the need to manually transcribe or review lengthy recordings to find critical information.
Fathom cons
Voice recognition limitations: Fathom may struggle to identify individual voices in hybrid meetings with multiple people in one room.
Minor glitches: users have reported occasional minor glitches in the system, including issues with Fathom getting stuck during meeting launches or recordings.
Privacy concerns: the social login requirement has raised privacy concerns for some users who prefer not to share more information with third-party platforms like Google or Microsoft.
Learning curve: while generally user-friendly, some users have mentioned a learning curve for certain features, especially for ad-hoc meetings and adding Fathom to calls initiated by others.
Recording limitations: Fathom may not always record last-minute, unscheduled meetings, requiring meetings to be scheduled in advance for reliable recording.
Fathom pricing
Fathom is a free app with no usage limitations, but it does offer Fathom Team Edition with additional features, fees disclosed upon contact with their team.
17. Fireflies
Fireflies is a meeting recording and transcription tool designed to simplify your meeting experience. It's compatible with popular conferencing platforms like Zoom, Microsoft Teams, Google Meet, and more.
With Fireflies, you can invite its AI assistant to live meetings, enabling easy capture and later review of insights. It offers sentiment analysis to identify meeting tones. The tool can record, transcribe, and organize meetings, and you can collaborate with your team by adding comments and flagging important moments.
Fireflies rating on G2
Fireflies has a 4.5 rating on G2, with 80+ reviews.
Fireflies pros
Automated note-taking: captures and flags critical decision points and action items automatically.
AI-powered assistant (AskFred): provides insights from conversations and answers questions by scraping dialogues.
Transcription quality: users report that the transcription quality is high, although it may require some proofreading.
Integrations and customizations: users appreciate the platform's integration with third-party tools and the ability to customize meeting summaries.
Fireflies cons
Language detection: The language detection feature may have limitations, especially in multi-cultural meetings, according to some users.
UI improvements: a few users mentioned that the user interface could be more intuitive and user-friendly.
Meeting bot behavior: Users report that the meeting bot sometimes doesn't join meetings promptly, and there may be challenges with removing the branded name from the meeting bot.
Space limitations: limited space for storing meeting history, requiring the removal of old calls to free up space.
Fireflies pricing
Free plan with basic features.
Pro plan for $10 per seat per month billed annually, $18 billed monthly.
Business plan for $19 per seat per month billed annually, $29 billed monthly.
Enterprise plan, fees disclosed upon contact with their team.
18. Grain
Grain is an AI-powered meeting recording tool that integrates with popular platforms like Zoom, Google Meet, and Microsoft Teams. It automates note-taking, recording, and insight capture during customer conversations, making it accessible and affordable for professionals in various roles.
With Grain, users can share customer perspectives via tools like Slack, Notion, HubSpot, and more, fostering customer-aligned teams and informed decisions. Grain's AI simplifies meeting summaries, allowing teams to capture key moments and insights, jump to specific points, and share feedback through platforms like Slack.
Grain rating on G2
Grain has a 4.6 rating on G2, with 260+ reviews.
Grain pros
Insight sharing: simplifies the sharing of key insights and interview highlights, making it easy to share snippets of interviews.
Transcription and organization: detailed note-taking during meetings with a library of recordings for easy reference.
Meeting summaries: enables quick access to key moments and insights, making it easier to capture important information.
Integration with collaboration tools: allows users to share customer insights and highlights with relevant teams, enhancing decision-making and team communication.
User-friendly interface: easy for both beginners and experienced users to navigate and utilize its features.
Grain cons
Limited free option: free plan is limited, and the pricing for the business plan can be a bit expensive, which may not be ideal for small businesses or startups.
Accent recognition: not accurately recognizing accents in transcriptions, which can result in inaccuracies in the text.
Buggy editing: occasional issues when trying to edit transcripts or copies.
Control over privacy: users mention that admin controls for removing videos from the workspace and more options for controlling access and privacy would be beneficial.
Integration with more tools: some users wish for additional integrations with specific workflow management and task management tools to further enhance their productivity.
Advanced AI summaries: AI summaries could be more accurate and useful, and some users feel that they still require improvement to be more informative.
Cross-platform organization: some users find it challenging to organize and categorize recordings efficiently, wishing for improved organizational features.
Grain pricing
Basic plan for free.
Starter plan for $15 per seat per month billed annually, $19 billed monthly.
Business plan for $29 per seat per month billed annually, $39 billed monthly.
Enterprise plan, fees disclosed upon contact with their team.
19. Parabol
Parabol is an Agile meeting tool for remote teams and leaders seeking to foster continuous improvement. It simplifies the process of running retrospectives, sprint poker estimation meetings, and standups, offering customizable templates such as "Start-Stop-Continue" and "Glad-Sad-Mad."
It integrates with popular platforms like Jira, GitHub, Slack, and more and promotes team engagement through features like anonymous feedback, multiplayer grouping, and guided discussions. It also generates valuable insights from collaboration activity, aiding teams in identifying areas for enhancement.
Parabol rating on G2
Parabol has a 4.6 rating on G2, with 70+ reviews.
Parabol pros
Customizable templates: offers a variety of customizable templates for different types of meetings, helping teams structure their discussions efficiently.
Anonymous feedback: anonymous comments feature encourages open and honest communication within teams.
Email summaries: automatically sends email summaries to participants after meetings, aiding documentation and follow-up on action items.
Parabol cons
UI improvements needed: interface could benefit from improvements, such as the ability to customize the size of certain elements and better handling of images imported from Jira.
Limited integration options: while Parabol offers Jira integration, some users would appreciate more integrations with other tools to accommodate various team needs.
Digest recipients control: users have expressed a desire for better control over who receives email summaries, especially when not all team members are part of every meeting.
Parabol pricing
Starter plan for free for up to 2 teams.
Team plan for $6 per active user per month.
Enterprise plan, fees disclosed upon contact with their team.
20. Coda
Coda is a platform designed to revolutionize meetings and work efficiency. It addresses the issue of poorly organized meetings that cost companies billions each year. With features like document and spreadsheet integration, project tracking, and versatile templates, it streamlines project management and collaboration across teams.
Coda also offers integration with popular third-party applications like Jira and Slack. Its unique building blocks allow for the creation of dynamic documents and applications, making it a versatile tool for teams to achieve their goals.
Coda rating on G2
Coda has a 4.7 rating on G2, with 400+ reviews.
Coda pros
Customization and flexibility: allows creating custom solutions for various tasks, from project management to documentation.
Formula capabilities: enables users to perform complex data processing and calculations.
Integration: allows data syncing from external sources and expanding functionality.
Community and templates: active Coda community and the availability of templates that help streamline document creation.
Affordability: pricing structure, particularly the ability to pay only for doc creators, is considered reasonable.
Coda cons
Learning curve: some find difficulty when getting started with Coda or integrating with external data sources, especially for those new to database and spreadsheet concepts.
Performance: documents with a large amount of data and complex formulas can slow down, affecting performance.
Customization complexity: while flexibility is a pro, it can also be a con for beginners, as creating highly customized solutions may require technical expertise.
Cost for advanced features: some users find that certain advanced features, like document access privacy, are available only in higher-tier pricing plans.
Design and formatting: limitations in terms of design customization, font choices, and inserting images.
Coda pricing
Free plan with basic features.
Pro plan for $10 per Doc Maker per month billed annually, $12 billed monthly.
Team plan for $30 per Doc Maker per month billed annually, $36 billed monthly.
Enterprise plan, fees disclosed upon contact with their team.
21. Vowel
Vowel is an AI-powered video-conferencing platform that enhances meetings by providing instant meeting summaries, real-time action item suggestions, live transcription, and universal search across meeting content.
It offers a streamlined user interface with collaborative agendas and notes, emoji reactions, and more. Vowel is suitable for various use cases, including HR documentation, sales team collaboration, and project management. It aims to make meetings more efficient and productive, offering a comprehensive solution for various teams.
Vowel rating on G2
Vowel has a 4.6 rating on G2, with 170+ reviews.
Vowel pros
Control and privacy: keep meetings distinct, ensuring privacy and control over meeting content.
Enhanced user interviews: features, including video conversations, bookmarking, quick transcript availability, and AI-generated summaries, have greatly improved user interviewing processes.
Action item tracking: ability to track action and task items discussed during meetings is very useful.
Live transcription: ensures that important information is not missed during meetings.
Simple and uncluttered UI: clean, intuitive, and uncluttered user interface.
Ease of use: easy to use for both professional and personal activities.
AI-powered summaries: AI-generated summaries of meetings allow quick reviewing of meeting highlights and action items.
Vowel cons
Accuracy of AI features: AI-powered transcriptions and summarization features are not always accurate, which can be a drawback for users relying on them for precision.
Integration limitations: Vowel's integration options with other software are limited, and users mention a desire for more integrations.
Recording quality: users note that the recording quality, especially for screenshares, could be improved.
Difficulty accessing dial-in information: users mention difficulty accessing dial-in information during ongoing calls.
Time-stamping in transcripts: some users would like to see time-stamping added to the transcripts for better reference.
Customer support: some users suggest improvements in customer support for resolving application issues.
Vowel pricing
Free plan with basic features.
Business plan for $16.49 per host per month billed annually, $19.99 billed monthly.
Enterprise plan (coming soon), details disclosed upon contact with their team.
22. Slack
Slack is a messaging and collaboration platform designed for seamless communication within organizations. It streamlines interactions through channels and direct messages, replacing traditional email and scattered communication methods.
Slack offers teams, communities, and companies the ability to create dedicated workspaces, fostering collaboration. It also integrates effortlessly with various third-party services, allowing users to access their preferred apps without switching interfaces. Slack's versatile features make it a valuable tool for modern workplaces, enhancing productivity and teamwork.
Slack rating on G2
Slack has a 4.5 rating on G2, with 31K+ reviews.
Slack pros
Real-time communication: facilitates real-time messaging and collaboration, enabling teams to communicate instantly, share information, and discuss ideas without delays commonly associated with email.
Channel organization: allows teams to create dedicated channels for specific topics, projects, or departments, making it easy to keep conversations organized and searchable.
Integration capabilities: offers extensive integrations with third-party apps and services, enhancing productivity by bringing various tools and information into a single platform.
Search functionality: enables users to quickly find past conversations, shared files, and specific keywords, improving information retrieval and decision-making.
Customization options: users can personalize their Slack workspace, adjust notification settings, and integrate third-party apps and bots, tailoring the platform to their specific needs and preferences.
File sharing: allows users to easily share files, documents, and multimedia within conversations, streamlining collaboration and document management.
User-friendly interface: intuitive and user-friendly interface makes it accessible to users with varying levels of technical expertise.
Slack cons
Learning curve: new users may require time to familiarize themselves with Slack's features and navigation, potentially leading to a learning curve.
Notification overload: in busy channels, notifications can be frequent and overwhelming, requiring users to manage notification settings effectively.
Connectivity dependency: relies on a stable internet connection for real-time communication, which can be challenging in areas with poor connectivity.
Potential for distraction: Slack's chat-based interface can lead to distractions if not managed properly, impacting productivity and focus.
Limited file management: offers basic file-sharing and collaboration features but may not be the most comprehensive solution for advanced file management and organization.
Dependency on integrations: over-reliance on third-party integrations may create dependency issues if an integrated service experiences downtime or changes its API.
Slack pricing
Free plan with basic features.
Pro plan for $7.25 per active user per month billed annually, $8.75 billed monthly.
Business+ plan for $12.50 per active user per month billed annually, $15 billed monthly.
Enterprise plan, fees disclosed upon contact with their team.
23. MeetGeek
MeetGeek is an AI-powered meeting assistant that records, transcribes, and summarizes online meetings. It integrates with popular video conferencing tools, transcribes discussions into searchable text, and provides insights such as sentiment analysis and participant involvement.
Users can customize sharing settings and collaborate with team members to streamline communication and make meetings more efficient. It's designed for various use cases, including consultants, sales teams, and HR professionals, to enhance productivity and data-driven decision-making in virtual meetings.
MeetGeek rating on G2
MeetGeek has a 4.6 rating on G2, with 160+ reviews.
MeetGeek pros
Automatic meeting joining: users can automatically join Google Meet and Zoom calls, even if they're not the organizer.
Transcription and jumping to sections: ability to click on a section of the transcription to jump to that section of the video.
Automatic captions: automatically includes captions on the video.
Automation: automatic summaries with action items and creating tasks in project management tools like Trello using voice commands., but could be improved further in accuracy.
Customer support: responsive customer support, providing white-glove service.
Accurate transcription: provides accurate transcripts, even for meetings conducted in languages other than English.
Integration and ease of use: offers native integrations and is commended for its user-friendly interface and ease of navigation.
Meeting recap: summarizes meetings and highlights key points and provides valuable meeting insights and analytics, such as sentiment analysis, participant involvement, and talk rate.
MeetGeek cons
Meeting joining method: displayed as "livestreaming meeting" on Zoom may give the wrong impression about the nature of the meeting.
Reliability and uptime: reliability issues with crucial meetings not being recorded due to the MeetGeek bot not showing up.
Quality of AI-generated summaries: sometimes inaccurately captures meeting content, leading to client dissatisfaction.
User interface (UI/UX): while the user interface has improved, some users still find room for enhancement and suggest increasing font size.
Default feature activation: users would prefer that new features are not enabled by default and that they have the option to enable them manually, as unexpected changes can be disruptive.
Integration expansion: some users express a desire for MeetGeek.ai to integrate with additional platforms.
Planning/scheduling feature: a planning or scheduling feature for group meetings would be beneficial, allowing participants to collaborate in advance.
MeetGeek pricing
Basic plan for free.
Pro plan for $15 per user per month billed annually, $19 billed monthly.
Business plan for $29 per user per month billed annually, $39 billed monthly.
Enterprise plan starting from $59 per month.
The bottom line
By now, you have a clear understanding of some of the best meeting management software solutions you can find in the market. With the outlined pros and cons list of every platform, you can now decide for yourself, whether you'd subscribe to a bunch of tools to manage a single meeting or go for the all-in-one meeting management platforms to capture your meeting knowledge and run effective meetings.
While each of the aforementioned platforms specializes in an aspect of meeting management, adam.ai offers an all-in-one meeting management solution that empowers you to manage your entire lifecycle and eliminates the need to jump through different tools.
Here are a few reasons to choose adam.ai:
Don't forget to share this post

Shaimaa Badawi
About the author ...
Content creator, passionate storyteller, and a pet lover
Subscribe to our blog
Get the latest blog posts sent straight to your inbox.